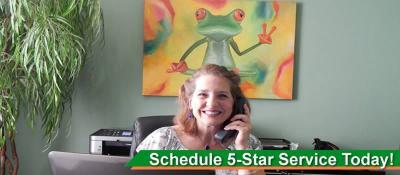 Carpet cleaning has a number of obvious advantages. First, a clean carpet is an attractive carpet. Removing visible dirt, soil and stains will improve the appearance of your entire home.
Secondly, a clean carpet is a healthy carpet. Hidden deep in the fibers are your carpet are dust mites, bacteria, dirt and other potential allergens that affect the air quality and overall health of your home and family.
Thirdly, a clean carpet lasts longer. Contrary to what many people think, cleaning your carpet does not wear it down or damage it, unless harsh chemicals are used in the process.  Carpet cleaning actually extends the life of your carpeting, enabling you to avoid expensive replacement costs.
At Peace Frog Carpet and Tile Cleaning in Austin, TX, we provide a deep steam carpet cleaning process that removes dirt, pet hair, dust mites and other debris that is embedded deep in your carpet fibers. Our extraction process removes these pollutants along with 98% of the water used in the process. This allows the carpeting to dry very quickly, which is a great advantage to our customers.
Best of all, the carpet cleaning agents we use at Peace Frog are biodegradable and environmentally friendly. We don't use any harsh chemical that could damage your carpeting. Not toxic residue is ever left behind that could be hazardous to the health of your children or pets.
At Peace Frog Carpet and Tile Cleaning in Austin, TX, your carpet cleaning service comes with what we call our "Peace of Mind" guarantee. If any stains reappear within 14 days of our professional cleaning, we will be happy to come back to your home and remove them for free.
Call Peace Frog Carpet and Tile Cleaning today at 512-259-6606 to ask any questions you may have about our company and our other interior home cleaning services. Or visit us on the web at https://peacefrogcarpetcleaning.com to learn more about us or read our outstanding customer reviews.
With an A+ rating from the local Better Business Bureau and a 2014 Angie's List "Super Service Award", you can't go wrong with Peace Frog Carpet and Tile Cleaning. You have our guarantee.