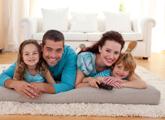 The area rugs in your home are probably placed in high traffic areas such as entry hallways, dens, dining rooms and living rooms and are more than likely fairly expensive. To protect your investment, you should have your rugs professionally cleaned at least once a year by our well-established Austin, TX area rug cleaning company.
Our technicians are well-trained and have the know-how and expertise to effectively clean your rugs. Our staff members will use gentle but effective chemical solutions and proper cleaning methods that will not discolor, stain or damage or harm your rugs.
Pet stains, dirty shoe soles and spilled foods and beverages are some of the typical culprits when it comes to the soiling of area rugs. Daily or weekly vacuuming will remove most of the surface dirt, but it will not get at the grime and debris that has become embedded in the fibers of your rugs.
Typically, rugs not only trap dirt and debris, but they also tend to trap harmful allergens that could damage the air quality in your home as well as affect you and your family's breathing. Our knowledgeable techniques will eliminate hidden dirt and trapped allergens that normal vacuuming cannot reach.
Attempting to clean your area rugs yourself is not recommended. You may use too much shampoo or the wrong combination of cleansers that could ruin your valuable rugs. We guarantee that our technicians will safely and efficiently clean your rugs.
We offer professional Austin, TX area rug cleaning services and use high-quality and certified equipment. Plus, we offer safe cleaning solutions. When our skilled technicians have completed the job, your rugs will be thoroughly cleaned and sanitized and smell clean. In addition, your rugs will look like you just purchased them.
If you want your area rugs to be fresh, contact our reputable and established area rug cleaning company today to make an appointment.