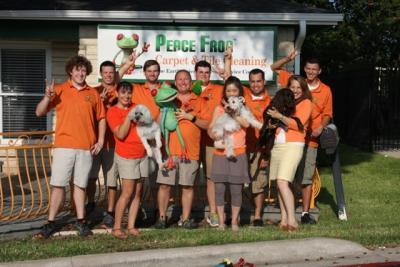 Keeping tile and grout from getting grimy is hard because grout is a porous material, which means dirt and debris easily becomes trapped in the grout lines. Grime makes tile and grout look dingy and dull and spoils the look of the room. Tiled floors and walls are supposed to sparkle and shine. When they get dirty they look awful.
When tile and grout becomes filthy, it can also cause mold and mildew to grow, which can affect your breathing. If you want your bathroom and kitchen tile to gleam, you should hire our established Austin, TX tile and grout cleaning company.
Our staff members are skilled and will carefully clean your tile and grout lines. They will use safe and the latest techniques to remove dirt from your tile and grout. Plus, they will never use any abrasive cleansers on your tile that could scratch and dull the surface of your beautiful tile.
Our reputable Austin, TX tile and grout cleaning company will do all the hard work for you. You will not have to search for cleansers to clean your tile and grout or have to spend hours of your time trying to wash away embedded dirt and grime. We have the right tools and cleaning agents to clean your tile and grout and make it look like new.
When the technicians finish their work, your tile will sparkle and your grout lines will be clean and bright. Once the technicians are satisfied that your tile has been thoroughly cleaned, they will seal your tile and grout with a protective coating that is designed to keep tile and grout looking brand new for years. The seal guards against dirt, water stains and the growth of mold and mildew.
Our Austin, TX tile and grout cleaning company is reliable and established. Contact us today, if you want your tile and grout to look like new again.
Advantages Of Professional Austin, TX Tile And Grout Cleaning