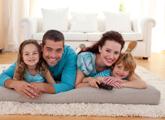 You purchased your beautiful area rugs to enhance the rooms in your home and to add atmosphere and warmth to the rooms they are placed in. In addition, your rugs feel soft under your bare feet and are comfortable to sit on while you watch a movie or play a game with the kids.
In many cases, your area rugs are one of the first things that guests see when they enter your home, which is why you want them to look fresh and clean at all times.
Area rugs will get filthy for various reasons such as from dropped cigar ashes, pet stains and spilled drinks and food. We know that you do not want people to see your dirty rugs, so call our professional area rug company today.
Our highly skilled technicians will make your rugs look new again. We advise that you have your rugs professionally cleaned at least once a year. Since the weather is bad in the winter and spring, we suggest that you have your rugs cleaned during those seasons to keep our rugs from being soiled with tracked in snow and mud.
The fibers in your area rugs act like a magnet when it comes to dirt and dust that regular vacuuming will probably fail to pick up. Our team of experts will clean your rugs with our powerful and certified equipment that will remove deeply embedded dirt and debris.
Plus, we will use safe and mild cleaning solutions that will not harm, stain, fade or streak your rugs. If you hire our trained area rug cleaning Round Rock, TX company, the team will carefully clean your rugs and will get rid of musty odors with fresh deodorizers.
Our area rug cleaning Round Rock, TX company is reliable and reputable. Contact us today if you want your area rugs to smell fresh and to be thoroughly cleaned.