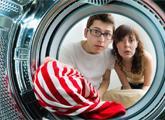 If your clothes dryer's vent has become clogged with dust, trash, lint and other debris, you should have it cleaned by a professional Austin, TX dryer vent cleaning company to prevent a possible fire. Lint and dust can accumulate and block the opening of the vent, which could cause inflammable materials such as lint to catch fire.
There are other signs that point to a clogged vent. If your clothing and other items such as towels and bed sheets are still wet or damp after a normal drying cycle, it is almost a certainty that debris is trapped.
Moreover, if it takes more than cycle to dry your clothes, sheets and towels, your electricity use will be increased, which could cost you more money over a period of time. Contact our reliable dryer vent company to have your dryer vent cleaned and to save money.
Ducts that are not properly connected to the dryer can also lead to a clogged or blocked vent. Plus, if the dryer hose becomes knotted, twisted or sags, lint and debris can become caught in the vent and clog the opening, which will restrict the flow of air and keep the dryer from functioning normally.
Another sign to look for is clothing items that are extremely warm or hot after they have been put through a regular drying cycle. Typically, this means that the dryer is overheating, which can overload the electrical system in your home and cause the dryer to catch on fire.
To avoid the risk of a fire and to keep the cost of your electric bills down, we advise you to have your clothes dryer inspected at least once a year. Contact our well-established and reputable Austin, TX dryer vent cleaning company today to make an appointment to have your dryer thoroughly checked for problems and cleaned.