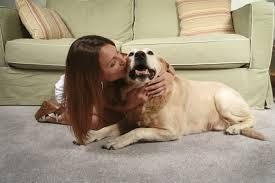 We know that Austinites are crazy about their pets. Austin regularly sits at the top of newspaper lists about dog-friendly cities, with many dog-friendly hotels and restaurants. Your pets are a part of your everyday life, and we get that. Who could say no to that cute beagle that wants to curl up by your feet or leave them outside when the family is having a movie night? Unfortunately when you let your pets inside your house, there can be the unfortunate side effect of pet odors, but there's no reason to send your favorite guy or gal to the dog house! When you need the best pet odor removal in Austin, call Peace Frog Specialty Cleaning.
Although there are many articles and videos online that show you how to remove pet stains and odors, it is best to leave this up to the professionals. Our Peace Frog technicians use black light technology to easily find those pet stains and can remove them easily and efficiently with our powerful pet-friendly neutralizing agents that remove bacteria and the odor that comes along with it. When it comes to pet odor removal in Austin, you really can't ask for better service or quality.
Remember, just because you share your home with your four legged friends does not mean that your house has to smell like a barnyard. With our assistance, your carpets and your home will have a fresh, beautiful appearance once again.  When you notice that your pet has an accident, please give Peace Frog a call and ask for a quote. We promise that you'll be satisfied with the best pet odor removal in Austin. Call Peace Frog today!