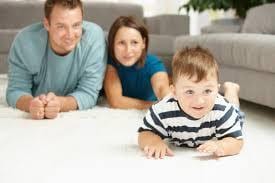 Have you noticed that your carpets have gotten a little dingy lately? Do you have a giant stain on your carpets that you are hiding with a well-placed piece of furniture or rug? Has your family been having allergy problems lately? It might be team to schedule a carpet cleaning specialist in Austin! When your home needs a little freshening up or you are about to host an event, call Peace Frog Specialty Cleaning for expert and efficient services.
Experts recommend that you get your carpets cleaned two to three times per year in areas that are "high-traffic." High-traffic areas are most likely the living room and hallways that you take every single day. Low-traffic areas like bedrooms and guest rooms that are rarely used most likely only need a professional cleaning about once per year. Carpets get stained. Whether it's wine, chocolate, cheese, and anything in between, we get it. We work hard to ensure that your carpets are clean, fresh, and fluffy once again. Not only do we make sure that your home looks great, but by steam cleaning your carpets we eliminate bacteria and allergens that may have been lurking beneath the surface, causing your family to be ill or have allergy problems.
Here at Peace Frog, we use an environmentally friendly cleaning solution that contains no harsh chemicals and is completely safe to use in homes with small children or pets. So what are you waiting for? When you need the carpet cleaning specialist in Austin, call Peace Frog Specialty Cleaning today!