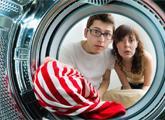 Ceder Park, TX Dryer Vent Cleaning – The Issues with a Clogged Ducts and a Blocked Dryer
If you've tried to do your Ceder Park, TX dryer vent cleaning on your clothes washing system and still have troubling and annoying issues like a super-hot dryer, clothes that just don't get dry anytime soon, a dryer that smells like burning wood or worse every time you run – you need a professional cleaning done ASAP!
These red flags are indicative of clogged ducts and a dirty lint-filled dryer that is a fire hazard – just waiting to happen.
Another potential sign that says your dryer needs help would be if your dryer vent hood flap does not open in the proper manner and you can easily view lint or debris around your dryer's hose and the outside opening of the vent.
When the air flow is restricted due to dirt and lint blockage the outside vent as well as the duct hood flap do not open as smoothly as they are designed to do so.
Your Ceder Park, TX Dryer vent cleaning should be carried out with professional inspections once a year or more – depending on your usage of the machine.
This is pertinent to avoid the risk of potential fires and carbon monoxide leakage and poisoning. For the health of your family, children and pets, remove lint debris every month and hire our Peace Frog Carpet Cleaning professionals for affordable and immaculate Ceder Park, TX dryer vent cleaning and sleep easy at night.
Nothing could be worse than waking up to a house with a fire raging in it and knowing that you could have avoided it!
Lint is not supposed to build up in your clothes dryer when your duct system has been efficiently designed, installed and cleaned. Get our trained technicians to inspect your dryer and remove all potential hazards.
Ceder Park, TX Dryer Vent Cleaning – The Issues with a Clogged Ducts and a Blocked Dryer