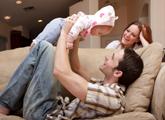 Eliminate Pet Debris and Odors For Good With Our Ceder Park, TX Upholstery Cleaning Services
If you are a person that is known among all of your family and friends as being famous for your DIY endeavors and you have a little furry friend that lives in your house, you have more than likely vacuumed and attempted to shampoo your furniture a time or two. In reality, you might have gotten all of the fur and other debris that your four legged friend has left behind, but pet odor in furniture is hard to eliminate with DIY treatment methods, as often times pet owners fail to recognize that there is one because they have grown accustomed to the smell.
We understand that pets are a part of the family, and that they are going to leave things behind on your furnishings, and that is why our Ceder Park, TX Upholstery Cleaning Service team members take special care in ensuring that we do all that we can to help our client's keep their upholstered pieces looking and smelling good. Our professionals are trained to know the exact chemicals to use on the fabrics of your furniture to take care of odors and stains, while avoiding the cleaning agents that could ruin your upholstery.
Not only will we refresh your furniture, by getting rid of all of the tidbits and the odors left behind by your pets, we will do it all at a price that you can afford, as we have packages that will fit even the thriftiest of budgets. Let our professionals take care of all of your Ceder Park, TX Upholstery Cleaning needs, and you will be amazed as your furniture is transformed and revitalized. Say goodbye to stains and odors for good. Give us a call today, and let us show you what we can do.
Eliminate Pet Debris and Odors For Good With Our Ceder Park, TX Upholstery Cleaning Services