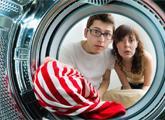 Most dryer vents are full of lint by the time that the dryer is finished drying a load of clothes, and when not cleaned properly, dryer vents that are full of lint may possibly cause a fire. Many times people dry clothes over and over again before thinking about cleaning the dryer vent, or they may think that it is not full enough of lint to clean yet. Dryer ducts are not always easy to get to, and many people think that it is too much trouble to clean them. We are a professional team that specializes in dryer vent cleaning in Ceder Park, TX and can help lint buildup from occuring. We use the best powerful equipment around to clean vents and ducts, and do ensure safety for all of our customers when in the home or business. We are experienced in cleaning everything from the dryer vents, all the way to the outside of the home.
We are available during our normal business hours, where customers can call and schedule a professional dryer vent cleaning in Ceder Park, TX and help themselves to save money on high electric bills. For people that are experiencing excessive heat buildup in the laundry room where clothes are drying, we can help eliminate that problem also. Our professional trained staff loves to help customers to help their equipment operate more efficiently, and lower the higher cost of having to spend out extra money on outrageous bills.
We can schedule to come and clean dryer vents as often as customers would like us to, or customers are welcome to call and get a price quote on what it will cost for our services. We offer affordable pricing to all of our customers.