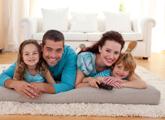 Your area rugs give the rooms and in your house style. You purchased them to enhance the rooms they are in, but now they seem to be taking away from the ambiance because they are smelly, dirty and stained.
Unfortunately, your rugs are noticeable and stand out in the room. You probably have tried to clean them, but most likely they still look dingy and have an unpleasant odor. Of course, you do not want people to come to your home and see and smell your soiled area rugs.
You no longer have to worry about how to get your rugs clean and how to remove those foul odors. Contact our reliable and experienced Austin, TX area rug cleaning company today and will make your rugs spotless and odor-free.
Area rug fibers trap dirt, dust and debris that normal cleansers and daily vacuuming cannot always find or remove. We use powerful and professional equipment and tools that reach deep down below the surface of your rugs and get rid of grime, dirt, debris and musty odors. Plus, our cleaning methods will remove stubborn stains from your rugs.
If you continue to use store bought cleansers, you may cause your rugs to become stained or the colors may fade or streak. If you hire us, our skilled technicians will safely and effectively clean your area rugs.
We will use gentle cleaning solutions and strong deodorizers that penetrate the fibers of your rugs and removes dirt, stains and odors. Plus, we will disinfect your area rugs and remove allergens, toxins and contaminants. Your rugs will look clean and have a fresh smell and will be free of stains when the job is complete.
We are a well-established carpet cleaning company. If you want to take advantage of our reputable and valuable Austin, TX area rug cleaning services contact us to today.