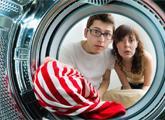 When it comes to dryers working at full capacity and achieving maximum energy efficiency it is vital to maintain them properly. If they are maintained on a regular basis then their capacity will decline and the amount of energy that they will use will also increase. Now the bulk of dryers have filters yet sometimes some of the dust within the dryer is fine enough to go through it. Now dryer vent cleaning in Austin, TX is not the most straightforward thing for people to do for themselves. If you find difficult to access the inside of your dryer then you could hire us to do it for you.
Our rates for clearing your dryer vent of dirt, dust, or grime are modest. Plus when consider the cost of replacing a dryer vent or any other part of a dryer it is money wisely spent. Ultimately a vent that is working properly can extend the life of your dryer. To put it simply our dryer vent cleaning Austin, TX service is cost effective as it will reduce the need to replace your dryer or dryers as often as before you started to use that service. We are available to carry out this cleaning service as often as you need it. So do not delay contact us for a quote as quickly as possible. We prefer to visit a site to see the extent of the job before working out it's total cost for you.
Our team is available now to carry out a complete dryer vent service that you will be satisfied with. We are dedicated to keeping your machines clean and therefore at their peak in terms of performance. You can be sure your dryers will be working properly so you can get on with doing the rest of your job.