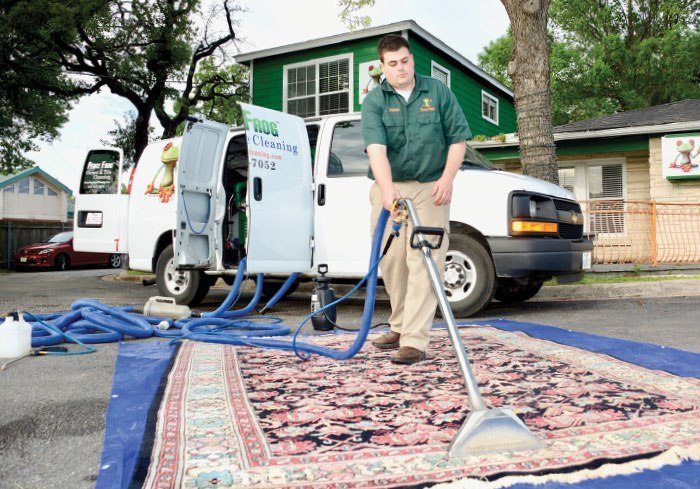 In the past six years, Peace Frog Specialty Cleaning has grown from one van to a fleet of seven. Owner and founder Matthew Hagebusch said he credits the company's success to its focus on moral life principles and customer service.
"I think what makes our company unique is the culture," Hagebusch said. "When you care about your work, the people and doing what's right, the money just comes."
Peace Frog is an earth-, environmental- and people-friendly company that focuses on multiple services, including cleaning carpet, tile, wood and upholstery as well as automotive and power washing, Manager Jason Schmidt said. Peace Frog has a location on Bell Boulevard in Cedar Park and on I-35 in Austin.
The company's products are human- and pet-friendly, Schmidt said, adding that environmentally conscious services are important to many in the Austin area.
Manager James Swinney said Peace Frog asks questions about a customer's home to determine the frequency of cleanings. The company's carpet-cleaning machines have about 35 horsepower.
"They are extremely more powerful than your household vacuum," Swinney said of the benefits of getting a professional carpet cleaning from Peace Frog. "There are a lot of people that have real bad allergies, especially here in Austin, so it's going to help tremendously."
He said carpet care can be compared to car maintenance.
"If you want it to look better for longer and actually maintain it and not have to replace it so soon, keeping it cleaned is going to be your best option," he said.
Aside from Cedar Park and Leander, Schmidt said clients from Georgetown, South Austin and sometimes beyond hire Peace Frog services, and the company has a following of repeat customers who often refer their friends.
"We're honest men and women who do honest work," Schmidt said. "We like to do things the right way the first time."
Peace Frog is in the process of adding an eighth van and plans to hire more staff in the near future, Hagebusch said.
"My job as owner is to facilitate growth," he said. "So whenever it's time to add more staff and more equipment, I see to that. But if it doesn't grow any bigger at all, I'd still be thrilled. This is really a dream come true for me."
Content of this blog post from Community Impact article.