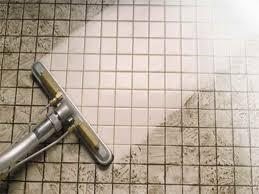 Do you often find yourself scrubbing and scrubbing your tile and grout in your kitchen with a toothbrush? Stop that backbreaking work and call in the professionals! When you need professional tile and grout cleaning in Austin, call the experts at Peace Frog Specialty Cleaning!
In every family home the kitchen is typically the busiest room, and is always the room with the most messes. It is no secret that the biggest messes happen in the kitchen (more often if you are not particularly a skilled cook). These spills and accidents that happen in the kitchen or dining room can put wear and tear on your floors, but we can make them shine brightly once again. Here at Peace Frog, we specialize in cleaning both porcelain and ceramic tile flooring. Getting your tile and grout professionally cleaned can extend the life of your floors and can also prevent you from having to do the heavy duty cleaning all by yourself. We want to be your partner in keeping your home beautiful for years to come. When your Peace Frog tile and grout cleaning technician arrives at your home for a cleaning be sure to ask them about our grout sealing process, which will help maintain the cleanliness and durability of the grout.
So, if your floors need a little TLC, call the professionals today! For more information about professional tile and grout cleaning in Austin, call Peace Frog for efficient and excellent services. We want to help keep your home gorgeous!