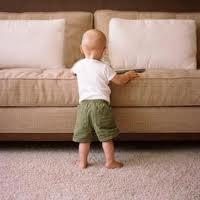 Here at Peace Frog Specialty Cleaning, we totally understand the love of your furniture. We know that it takes awhile to build a home out of a house and that you probably spent a lot longer picking out your furniture than you want to admit. But over the years, your furniture has gotten dingy and has definitely seen better days. Instead of going shopping for a new, pricey couch, you should schedule a professional upholstery cleaning in Austin, Texas with Peace Frog!
Whether you've spilled a glass of wine on your couch or it just needs a bit of freshening up, your Peace Frog technician will know exactly how to remedy it and get your upholstery looking great once again. Upholstered furniture uses more varied materials and methods of manufacture than carpet. Your technician will inspect your upholstery and take special considerations such as color fastness and stability of the fabric to provide the right type of clean. When you call Peace Frog for a professional upholstery cleaning in Austin, Texas, you are making an investment in your furniture. When you keep your upholstery clean, you help to extend the life of the fabric, which is cheaper for you in the long run. There's no need to go out and buy a new couch or chair, especially with Peace Frog by your side!
Here at Peace Frog, we specialize in cleaning:
Micro Suede Upholstery Cleaning
Wool Upholstery Cleaning
All Common Fabrics Upholstery Cleaning
Leather Cleaning and Conditioning Upholstery Cleaning
What are you waiting for? Call Peace Frog Specialty Cleaning today for more information about how to make your furniture get that beautiful glow once again!