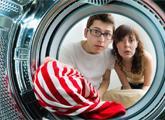 Signs It's Time For A Dryer Vent Cleaning in Austin, TX
If you own a clothes dryer, you should have the vent professionally cleaned for your safety. If it has been a year or more since the vent has been cleaned, it could be very dangerous. Lint, dust and debris build up and block the vent, which could ignite. Call our dryer vent cleaning Austin, TX company as soon as possible to avoid the risk of a fire.
There are various signs that indicate that it is time to have your vent cleaned. One of the most common is lint or debris on the outside the dryer's vent opening. You may also notice an excess amount of lint and debris behind the dryer. If you do, call our company right for a dryer inspection.
Another sign is that your clothes take longer to dry. If your clothes are not dry after a normal drying cycle, most likely the vent is blocked. You will have to spend more time drying your clothes because you will need to run it through another cycle to completely dry the clothes. Doing so will increase your energy bills. Contact our dryer vent cleaning company and save time and money.
A burning smell also points to a problem. If you notice a burning smell when you use the dryer, turn it off and have your dryer checked by our reputable company right way. Typically, a burning odor means that there is an excess amount of lint in the vent that could become inflammable. This is potentially very dangerous and should be addressed right away.
Yearly inspections will extend the life of your dryer and will save you time and money. More importantly, it will make your home safer due to the lower risk of a fire. Call our dryer vent cleaning Austin, TX company today to make an appointment.