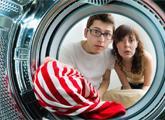 The Best Dryer Vent Cleaning in Austin, TX
Each year, almost 15,000 fires occur in homes and other places due to dryer vents not being cleaned out properly. Dryer vent cleaning in Austin, TX is one of the most important things to do after using a clothes dryer, although it is not necessary to clean out the vent with each load every time, the vents still need consistent cleaning out. Lint trays should be cleaned very often, as this will also prevent a structure fire after loads of laundry have finished drying. We, as Professional, licensed, personnel, provide services that every dryer owner should invest in. There are many things that can get stuck inside of vents that the human eye can't immediately see, and that's where we put our best services to the test to satisfy our customers. Everyone that owns a dryer should get their dryer vents cleaned as least twice a year by a professional. Professional dryer vent cleaning in Austin, TX leaves the best results, and we, as licensed professionals know how to get the job fast, using safe, non-toxic, biodegradable equipment.
For people wanting to clean their own dryer vents and lint trays, the first and most important thing is to unplug the dryer first, loosen the vent clamps with a screwdriver, and remove the vents. Reaching into the vent hole to clean out any extra lint and trash that has built up, will surely help in preventing any type of house or building fire. Our professionals may try different techniques that clean out dryer vents, and may even use a vacuum cleaner to help suck out built up trash that cannot be reached with the hands. Our Professional vent cleaners will not only clean dryer vents on the inside, but will perform great dryer vent cleaning in Austin, TX on the outside as well, due to a buildup that can occur on the outside from many uses of a dryer. Professional vent and lint cleaning is not hard to find. Most professional services that clean out dryer vents can be found online, or in a local phone directory.