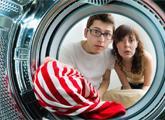 The Importance of Dryer Vent Cleaning in Round Rock, TX
Many people neglect the importance of dryer vent cleaning in Round Rock, TX. The fact is that dryer lint can act as a fire hazard. A number of household fires are started that way each and every year. Even when uncleaned dryers aren't dangerous to a household, they can still damage clothing dryers and make it more and more difficult for them to function properly. People may end up having to replace their dryers much earlier than expected as a result of their failure to clean out their dryer vents in time. Washing machines and dryers tend to be expensive household purchases that people want to minimize as much as possible. Hiring professionals to clean out the dryer vents can help dryers last longer and work better while they last.
While many people remember to clean the lint baskets from their clothing dryers on a regular basis, they've only scratched the surface when it comes to dryer vent cleaning in Round Rock, TX. However, it can be difficult to do it successfully without the right tools. There's no reason for people to have to rely on their own skills in order to clean their dryers successfully when they can hire professionals that have years of training and experience.
Many carpet cleaning services also have experience with dryer vent cleaning in Round Rock, TX. There's plenty of overlap between the skills a person needs to complete the project and the tools that a person needs in order to get the job done. Our carpet cleaning service can help people get their dryer vents cleared, keeping them safe and keeping their dryers in good condition for that much longer. We can help people get through this frustrating chore successfully and inexpensively.