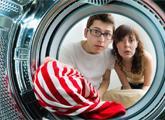 Did you know that dryer vent cleaning in Austin, TX is important if you want to keep your dryer functioning properly? The vent allows air to get through the dryer, preventing any blockage from occurring. But if you're constantly using your dryer and not cleaning out the vent, it will eventually get clogged with fuzz from all the clothing you've dried. When that happens, your dryer may not work as efficiently, which means you'll have wet clothes after putting them in the dryer and having them in there for several hours. Not only would you be wasting your time, you'd also be wasting energy by constantly having your dryer running.
If you haven't checked the dryer vent in a long time, we can come out to do the dryer vent cleaning in Austin, TX for you. We have the experience with cleaning vents and know how to quickly eliminate fuzz and dirt that was likely building up on the vent for months or even years. Not only will we make sure your vent is clear, we'll make sure your dryer is functioning as it should once the vent is cleaned out carefully. You should notice a difference shortly after the cleaning process because your clothes should then dry faster.
If you're running a laundry business, it's even more important to ensure that your vents are always handled properly. Whether you need one or dozens of dryer vents cleaned out, we can handle the task and have it done for you in no time. Most importantly, you won't have to worry about any fire hazards or other risks because your vent will no longer have that blockage there that prevents air from flowing through.
The Real Reason You Need a Dryer Vent Cleaning in Austin, TX