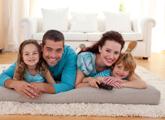 Tile and Grout Cleaning in Austin, TX
Peace Frog Carpet & Tile and Grout Cleaning in Austin, TX specializes in ceramic tile and porcelain tile cleaning as well as grout cleaning. Using products that are safe to people and pets alike, Peace Frog is an earth friendly locally owned company.
Ceramic and porcelain tiles that are refined and colourful with clean looking grout borders can add a touch of twinkling charm to your home. We can also offer a grout sealing process which will help to protect and maintain the grout borders making them easier to clean. A grout sealing process can also help the grout lines last for years to come. After we have attended your tiles will once again look good as new!
Looking after your tiles can give you a healthier, cleaner and safer home, maintaining your tile floor is extremely important in creating a clean living environment. Ceramic and porcelain tiles can be difficult to clean due to the grouts and cracks. Improper cleaning on your tiles and grout may lead to permanent damage to your tiles, not to mention it can be extremely time and energy consuming – so why not leave it to the professionals?
Our company is the best and highest rated carpet and tile and grout cleaning company in the Austin, TX area, we pride ourselves on providing excellent services by highly skilled technicians and exceptional customer service as well as great attention to detail and dedication to making sure that you get the best possible results and ensure that your tiles are looking the best they possibly can! Many of our customers are so impressed with our service that they come back to us time and time again. We're sure that you will as well, we guarantee it!