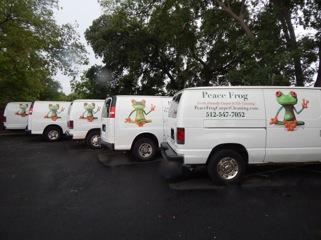 Truck Mounted Carpet Cleaning in Round Rock, TX
When you need to bring your carpet back to its original new state, Peace Frog Carpet Cleaning can help. Our professional carpet cleaners will remove tough stains, marks, dirt, bacteria, dust mites, and odors from your carpet. We use the most advanced, truck mounted carpet cleaning system in Round Rock, TX that gently removes even the most ground-in stains, leaving your carpet looking and smelling fresh again.
We are a certified and licensed business which uses safe and healthy biodegradable chemicals, including an array of services available for all of your carpet cleaning needs. We use truck mounted steam cleaning units in Round Rock, TX and we will not invade your home or office. Only a couple of hoses and a floor tool will be brought inside your office or home. We guarantee minimal disruption, while keeping you and your family's safety in mind with the methods that we use. Our fully trained and certified technicians will inspect your carpeting area and choose the most appropriate truck mounted method of cleaning for your carpets.
Even weekly and regular carpet vacuuming will not get the deep embedded bacteria, dirt, and grime that can pose a health issue for people in a home or an office. Our state of the art truck mounted system can remove these possible problems that home machines can not handle.
We pride ourselves in being able to handle everything from small residential jobs to large commercial projects. When you contact us here at Peace Frog Carpet Cleaning, you will receive professionalism, respect and a timely response to address your personal needs that you deserve. So, contact us today for a free phone estimate for all of your needs. Call us at (512) 259-6606 and set up an appointment to get your carpets cleaned.