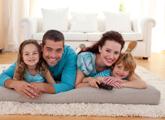 We Offer Area Rug Cleaning in Austin, TX
Rugs can be difficult to clean, especially if they have got stained in some way. Rugs can be expensive to replace, so people do not like to throw them away and would prefer to have them cleaned if possible. Hiring professional cleaners like us is sometimes more cost effective than paying for a new, luxury rug. One stubborn stain can ruin things if you do not bring in our help.
As a professional carpet cleaning company we have access to cleaning equipment that our customers do not have. Our specialist equipment means that we can complete a thorough area rug cleaning in Austin, TX with the minimum of fuss. This equipment includes a carpet cleaning frog that enables to clean the specific parts of carpets, or rugs, which are the dirtiest, or that have the worst stains. We can use special carpet shampoos and shampooers as well to tackle the most stubborn of marks that have resisted all other treatments.
Besides carpet shampooers, we are able to use steam mops to complete area rug cleaning Austin, TX tasks effectively. We have a small and highly skilled team of operatives with the experience to handle the vast majority of commercial, as well as domestic cleaning jobs. As a company we take a great deal of pride in being able to complete any job that we have been paid to carry out. We are sure that our dedication and hard work will make all our customers satisfied with the jobs, which we have done for them.
So be assured that if you call us at, or book us online to do an area rug cleaning Austin, TX job that it be done to perfection for you.