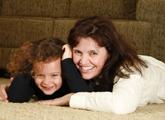 You want a clean house. That is always your dream. You have done what you can to clean up the kitchen, the living room, and the bedrooms, but something is still lacking. You don't know just what it is. You have vacuumed and everything, but something just doesn't feel right. Have you considered hiring a carpet cleaning service? That is what is missing. While the rest of your house is clean, your carpets and your rugs are still dirty, and they are causing the house to feel off. If you want a truly clean house, then you want to look into hiring someone for area rug cleaning in Austin, TX as well as carpet cleaning and we are here to help you with that.
We offer area rug cleaning Austin, TX services that will help you as you seek to finish up the cleaning of your home. A professional company, we will get the job done right, so that your entire home can feel safe and clean. You have done all the other work, now it is time to hire professional help to get the job finished. Your home won't feel fully clean until you have your carpets and rugs professionally cleaned, and we will do that job for you in a way that is efficient and affordable.
When you want your house fully clean, then you need our help. Our carpet and area rug cleaning Austin, TX services allow you to have every inch of your home clean and healthy, fresh and new. You want a clean house, and we can help  you to achieve that. We will bring cleanliness to the floors of your home, so that you can relax and know that it is all good.