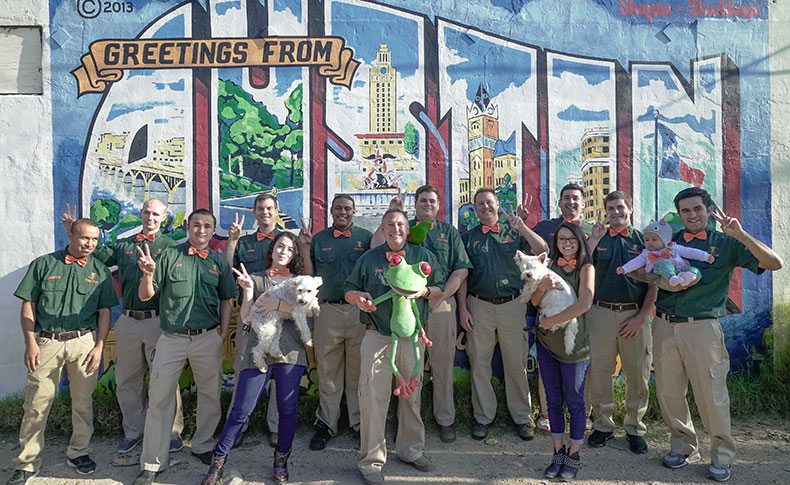 Our Guiding Company Values
Create a Positive and Helpful Vibe with Every Human Interaction
Always Do The Right Thing
Listen First, Then Listen Again
Default to Transparency
Choose Positivity
Show Gratitude
Be Kind
Customer Satisfaction with Peace Frog Specialty Cleaning
Shining Reputation
Peace Frog Specialty Cleaning is the highest rated carpet and specialty cleaning service in the Austin area! We are proud of the work we do and the relationships we build with our customer. Check out our customer testimonials.
Qualified Cleaning Technicians
At Peace Frog, all of our cleaning technicians go through a rigorous training period and are evaluated on attitude and ability to work hard. Our workers learn how to clean any surface and how to treat clients the Peace Frog way.
Green Cleaning
Peace frog is different from other companies for more than our outstanding 5-star customer service. We do more to improve your home than simply cleaning your floors. Peace Frog prides itself on being environmentally responsible. We offer earth-friendly alternatives to harsh petrochemicals. By offering detergent-free deep steam cleaning and non-toxic chemicals, Peace Frog can improve the quality of your carpets and your family's health.
Peace of Mind Promise
If you are not thrilled with the quality of our workmanship we will come back and clean it again for free! Please ask our famously friendly technicians to re-clean any problem areas during the initial visit. If stains reappear within 14 days we will be delighted to return at no charge. Peace Frog carries 1 million dollar liability insurance for your Peace of Mind and ours. Give us your business. You'll be happy you did!