Upholstery Cleaning & Furniture Cleaning From Peace Frog Carpet & Tile Cleaning
Peace Frog is the best provider for upholstery cleaning and furniture cleaning in the Greater Austin Area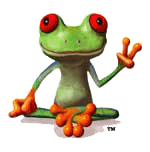 Happiness is...Two Peace Frogs in a Love Seat.
-Austin P. Frog
The experts at Peace Frog Carpet & Tile Cleaning can restore the beauty and extend the life of your favorite upholstered furniture. Peace Frog Carpet & Tile Cleaning uses a deep cleaning hot water process which cleans deep down into the fabric, bringing back its vibrant color and beauty. Our professionally trained technicians uniquely treat every individual stain as part of the cleaning process.
Upholstered furniture uses more varied materials and methods of manufacture than carpet. Special considerations such as color fastness and dimensional stability of the fabric are critical to the cleaning process. Peace Frog Carpet & Tile Cleaning will provide the right cleaning process in the right situation for your particular upholstered fabric. By keeping your upholstery clean, you extend the life of the fabric which protects the value and the integrity of the fibers.
Consider trying out our Dupont Teflon™ technology to keep your furniture stain-free for longer! The same stain-repelling formula we use for carpet protection can be applied to upholstery to thwart those muddy-footed pets!
We specialize in cleaning:
Auto Upholstery Cleaning
Micro Suede Upholstery Cleaning
Wool Upholstery Cleaning
All Common Fabrics Upholstery Cleaning
Leather Cleaning and Conditioning Upholstery Cleaning