Cool People Wanted
Join the Team
We are Austin's highest rated carpet cleaning company, and we are looking for quality, motivated professionals to join our team.
Now Hiring Cool People, Up to
$1000+ Per Week
We're not trying to "fill a job opening." So, if you're just looking for your next "job," I respectfully suggest that you stop reading. Keep reading if you want to join a team of like-minded people who are building their long-term careers. Individuals who want personal and professional growth with a growing company.
Yeah, yeah, yeah … you've heard that BS before. So let me prove it to you. Talk to any of our folks, that have worked for us for several years and see what they say. Chances are they'll say that it's the best job they have ever had and are earning more money than they have ever made anywhere else.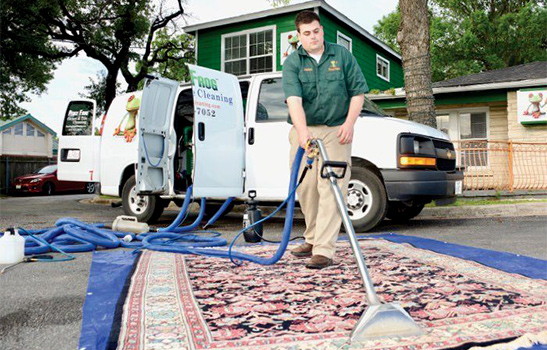 In fact, we'll first team you up with our longest employed tech so you can interview him while you're getting paid to learn a few things. Ask any of our cleaning specialist anything – there's nothing off-limits and nothing to hide. Verify that they are paid way above the industry average.
Find out what they do on the off days for fun (technicians work Monday-Friday or Tuesday-Saturday.) No late evening jobs or emergency cleaning jobs. Your time is your time and is respected. Let them describe to you why they don't feel like sleazy bate-n-switch salespeople because everyone operates from Doing the Right Thing and what is best for our customers, unlike many in the industry. Get their honest opinion of how we treat them vs. their previous employers. In short, do your due diligence. Check us out! Know what you're getting into.
---
And if our team decides that you're a fit and you like us, we'd love to start serious training to turn you into a top-notch floor and upholstery cleaning specialist. If not, you can always say you worked for a cool little company called "Peace Frog" and walk away with your time compensated.
Oh, before I forget, we have a swimming pool at the office, free beer and the occasional BBQ.
Call me (Matt) now at (512-766-5775).
Nobody is perfect. Check out the requirements and the comp specs below to see if we appear to be a match for each other and if we should schedule a time to talk.
---
Shortlist of Requirements
No DWI conviction past 3 years
Good driving record
Dependable vehicle
A Positive attitude
Manual labor experience
What we offer:
You're paid as an employee (W-2) covered by worker's compensation.
$250 per month health reimbursement plan
IRA matching retirement
2 to 3weeks of paid training @ $700 per week
Excellent pay above industry average — Employees our making over $1000+ per week, most substantially more.
Work Monday-Friday
Hours:
The hours of operation vary from day to day. We try to keep the schedule limited to between 7:30AM and 7 PM Monday – Friday, but each day brings new scenarios. This is a 5 day work week. If you work 6 days per week there is a bonus.
Training:
The initial training period lasts 2-3 weeks. More training is provided if needed. While in training, you will be evaluated for attitude and ability to work hard. Training pay is $700 per week.
Additional info:
We are looking for someone who can put in the extra hours and will finish a job thoroughly for our customer, with superior quality, no matter what it takes.
Carpet and upholstery cleaning is hard work, but it's a great job. You get to go to new job sites every day, see many nice homes, meet new people, and drive all over town.
The compensation system that we have allows you to give yourself a raise every day. The more you clean, the bigger bonus you get.
To apply:
Ready to learn and grow with a company you'll love?
Call me (Matt) now at (512-766-5775) leaving a short message about why you think you'd be a good fit to join our team and fill out the form below. See you on the other side.
Enjoy a rewarding career with Peace Frog Inc.!