Carpet cleaning and Rug cleaning for Austin, Cedar Park and surrounding areas.
Congratulations! You found the best carpet and rug cleaning company in Austin. Your first thought may have been…"Peace Frog?..Really?…What a silly name. What does that have to do with carpet cleaning?" Well…um…err…nothing really. Our smiling tree frog proudly flashing the peace sign symbolizes All That is Good. All That is Positive. All That is Austin!
Peace Frog Specialty Cleaning is an EARTH-FRIENDLY, locally-owned company dedicated to making your customer service experience remarkable. We are one of the highest rated carpet cleaning and rug cleaning companies in Austin and Cedar Park. We specialize in deep steam carpet cleaning, tile and grout cleaning, upholstery cleaning, dryer vent fire prevention maintenance, pet odor removal and hardwood floor cleaning.
We service Cedar Park, Leander, Liberty Hill, Lago Vista, Lakeway, Georgetown, Round Rock, Manor, Hutto and Austin carpet cleaning customers everywhere.
Services to Maintain a Clean and Healthy Home or Business
If you are not thrilled with the quality of our workmanship we will come back and clean it again for free!
Please ask our famously friendly technicians to re-clean any problem areas during the initial visit. If stains reappear within 14 days we will be delighted to return at no charge. Peace Frog carries 1 million dollar liability insurance for your Peace of Mind and ours. Give us your business. You'll be happy you did!
They scheduled me for the same day I called and did a great job. Super nice and professional team. I'm excited by how fantastic the carpet and the stairs look.

Melissa Butler
22:35 19 Jan 21
Peace Frog cleaned my hard surface tile. The tech did a fantastic job. He was very helpful and worked quickly. I was really pleased with their service.

David Pine
22:09 17 Jan 21
Ryan was my technician he did a fantastic job cleaning my carpets. He was very professional and a very nice guy. I will be using this company again when I need my carpets cleaned.

We used Peace Frog to clean our carpet, hardwood floors, tile and grout. They were very polite, courteous and well priced. We are considering using them to clean our floors more than once a year. I would recommend this company to anyone looking for a company that can do more than just carpet cleaning. And it doesn't hurt that their staff is very professional, as well.

Warren Conway
04:30 14 Jan 21
Really professional and detailed service. Got the whole house carpets cleaned for 1st time today! They were very respectful of furniture/things and did excellent work. Chad was the main technician. He explained everything before they started and finished about post care. Really happy with the work and customer service. Highly recommend them.

Carlos did a great job, the company was very responsive, showed up on time and were very friendly. I liked being able to make an appointment online. Would use this service again.The text introducing Carlos before he got here was a nice touch.

Danielle Elder
00:19 12 Jan 21
They did a thorough, careful job and were very knowledgeable about stains. The place looks great! Also they were very courteous and well-mannered. And they gave us exact info on how long to wait before using the furniture again.

Gail Tosto
01:35 06 Jan 21
Not only did they do a great job on my carpet, but Carlos was very professional considering I was detained and showed up late for appointment.

Janice Anderson
20:46 05 Jan 21
Peace Frog did a great job cleaning carpets in two bedrooms, living and dining area. They came in a days notice, were on time, professional and explained the process, how long it would take. They recommended how to move furniture back while carpets dry out. Use them! The technician Khobe was the best!

Julie Van Oss
17:35 05 Jan 21
Great experience from start to finish. Very professional. Quality cleaning. They offer a "membership" and gave me the info about it but they were in no way pushy about it. Basically just gave the info and said think it over. Seems like a good deal, so I might just take them up on it.

Kevin Pimm
15:38 01 Jan 21
Carlos and team did a great job . Communication was great and professional. Carlos showed up exactly when he said he would. Had me check quality all along the way. Very careful with things around the house and protected furniture and walls from the equipment. Carpets and sofa looked awesome when finished. Couldn't have asked for a more professional experience!

LagunaGal D
18:02 31 Dec 20
I have used Peace Frog 3 or 4 times now. Its not necessarily because I think/know they are the best, but I live in Cedar Park and I assume they are a semi-local company. Anyways, the last technician who came did a good job, but I felt lacked professionalism. I just had my house cleaned on 12/29/20 by a technician named Jason and his partner in crime (young person). Jason was the ultimate professional and even offered alternative recommendations to a "store-bought" carpet cleaner he noticed we had around the house that could potentially cause more damage to my carpet than I realized. Given the COVID19 pandemic, he went above and beyond to ensure he was respectable to our home, my 8 month pregnant wife, and the fact the house was not ready when he came. I am an manager in the Financial Services Industry and I would hire Jason and his side kick in a second. If I schedule with Peace Frog again I would like Jason and his protégé to service my residence again.

Khalid AlJamal
05:12 31 Dec 20
Have used Peace Frog several times over the years and have had a great experience. Danny was awesome. He was timely and professional. Will use them again next year for sure !

Nicole Verver
21:08 29 Dec 20
Ryan did a great job cleaning our carpet, stairs, and removing pet stains. Carpets look like new and Peace Frog always has great customer service. Highly recommend them for carpet cleaning, grout cleaning, etc.

I contacted Peace Frog several weeks ago to get an estimate on having our carpet and area rug cleaned. I put it off for awhile and last week I decided we were either buying a new rug or giving them a shot. I am so glad that we did! Jason came out and had our carpets and rug cleaned in a little over an hour. We had our dryer vent cleaned and he noticed that the vent was about 70% blocked off because the vent was too long. When we had our dryer installed, the dryer was pushed too far back causing the vent to become blocked. I am extremely pleased with the service we received from Peace Frog. We have a 2.5 year old so I am sure that we will need their services again, sooner rather than later. We will also continue to recommend them to our family and friends. If you've been looking into having your carpet, tile or rugs cleaned, I'd highly suggest contacting them!

Jordan Graham
19:52 28 Dec 20
We have used Peace Frog for years and continue to be pleased with the great service and excellent work!Jason & his assistant did a fantastic job and I was so glad for a quick turn-around from calling!

Marcia Ness
18:12 28 Dec 20
We just bought a house with carpet upstairs. The condition wasn't great - dirty with some staining. The technician was friendly and helpful. He did his best to remove the stains. The carpet looks great!

Michelle Christine
13:38 21 Dec 20
Thanks again to the Peace Frog Gang for coming out to clean our carpets. The process was great from booking the appointment with Guy to the cleaning that Jason did. The hard work he put in really brought the carpets back to life. The customer service, professionalism, and cleaning results is why our family will be a customer for life of this company.

Michael Canales
19:44 19 Dec 20
Ryan did a GREAT job, was prompt and professional, and left our home with clean rugs and smelling great!

Danny showed up right at the beginning of our window. He was friendly, answered our last minute questions, got to work right away, and took great care in cleaning the carpets. I could hear how long he was spending in each area upstairs and Danny gave close attention to all areas unlike the last company I used.The carpet looks great, especially considering it is a 13 year-old carpet. Even the stairs look vastly improved in spite of all the use they have withstood over the years and the fact that the previous owners had installed ivory plush carpet. The raking Danny did made the individual fibers stand up again and there was no cloying scent afterwards, just a clean carpet.I definitely will use Peace Frog again and will ask to have my carpets done by Danny if he is available. Scheduling was also very easy with someone answering the phone in the middle of the day and putting me on the schedule within minutes, so no waiting for a call back.Price felt consistent with what I have paid in the past, but with the significant difference that this time the carpets were cleaned very well.

Patricia Srivastava
15:17 18 Dec 20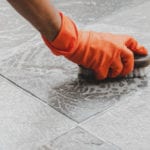 Tiling that gleams with bright, clean grout can be a centerpiece of any kitchen, bathroom, or outdoor area. But when ...
Read More

→