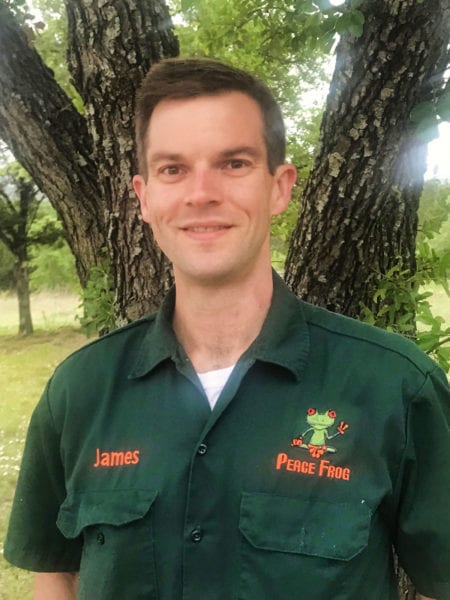 General Manager
James
James is Peace Frog's General Manager. He's been with Peace Frog for 5 years and loves what he does. He began his career as a cleaning technician and has since transitioned to a leadership role. He likes nice cars, friendly dogs and meeting new people. His passion for helping others and making this company run smoothly can't be understated. James is a Dale Carnegie Course graduate.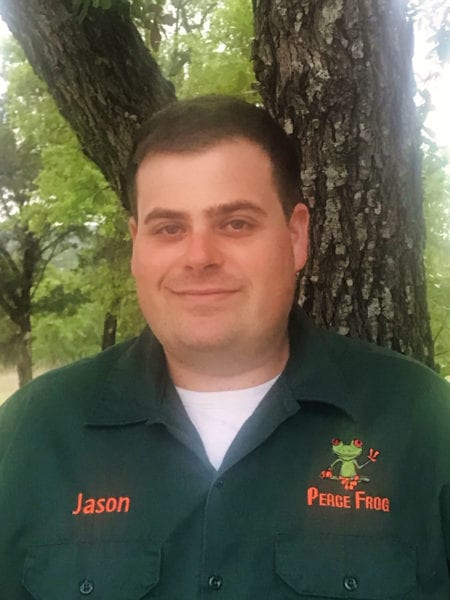 Field Manager
Jason
Jason is Peace Frog's Field Manager. He has been with the company going on 7 years and has over 5,000 completed jobs. He is newly married and looks forward to being a dad. He enjoys watching sports, eating at local restaurants and helping friends move with his truck. You would be hard-pressed to find a more reliable and honest service professional. Jason is also a Dale Carnegie Course graduate.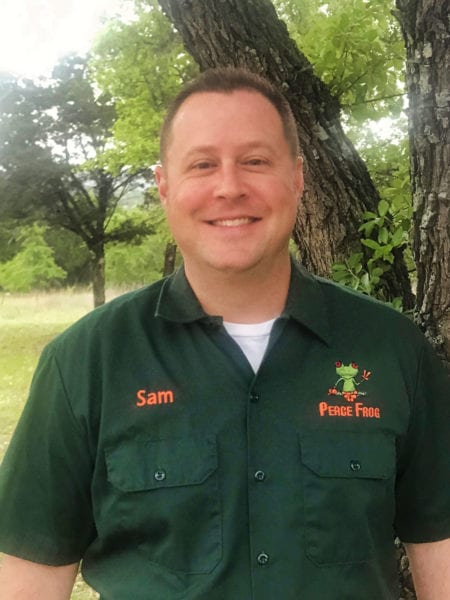 Office Manager
Sam
Sam has the pleasure of holding the title of Office Manager for Peace Frog Inc. He enjoys serving others and stands with the Peace Frog motto of Peace, Love, and Service. He loves spending time with his family. God has blessed him with a beautiful and loving wife, and two handsome energetic boys. He was born in Austin Texas and grew up in Leander Texas. He attended Texas State University and graduated with a degree in Business Management. He loves Jesus, his family, music, and super hero movies.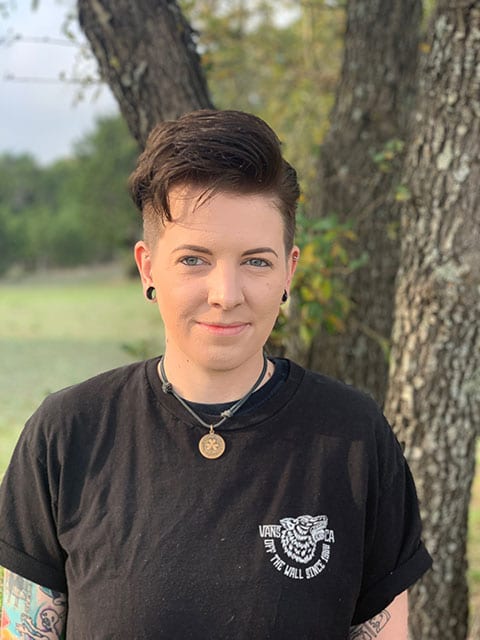 Office Staff
Lauren
Lauren moved to Austin in 2019 from Houston with her two dogs. Originally from New York she traded snow for sunshine. In her spare time she enjoys hiking, EDM raves and everything Sci-Fi. Lauren is also a huge movie buff with over 1000 DVDs and still growing. She's passionate about customer service and is an invaluable Peace Frog office staff member.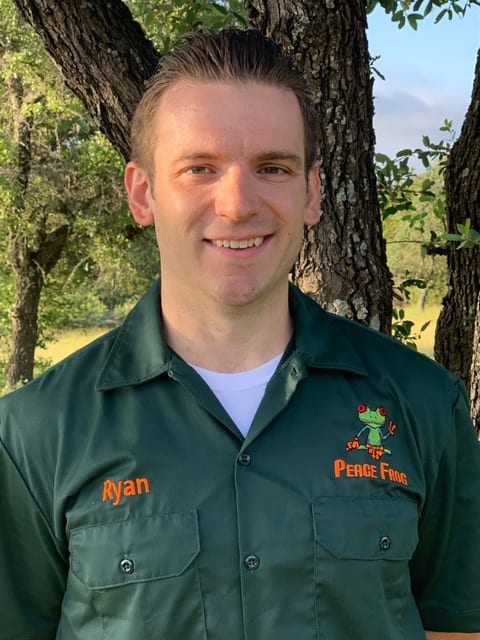 Cleaning Specialist
Ryan
Ryan was born and raised in northern Texas but has called central Texas his home for the last 10 years. He is happily married. Him and his wife love to work out together, enjoy competing in Spartan races and Camp Gladiator events. In his spare time he enjoys cooking and practicing one of the four instruments he can play.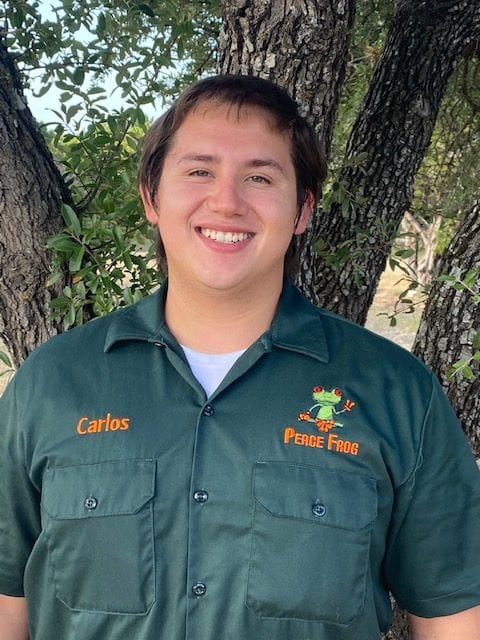 Cleaning Specialist
Carlos
Carlos likes to restore or modify cars. He loves playing and listening to 50's, 60's and 70's classic rock. He enjoys cooking homemade dog food and taking hikes with his 3 dogs. He has a 17 year old chihuahua since he was 8, a 7 year old Pomeranian he found Christmas Eve of 2017, and a 4 month old white German Shepherd husky, with his girlfriend of 6 years. He loves cleaning and working at Peace Frog!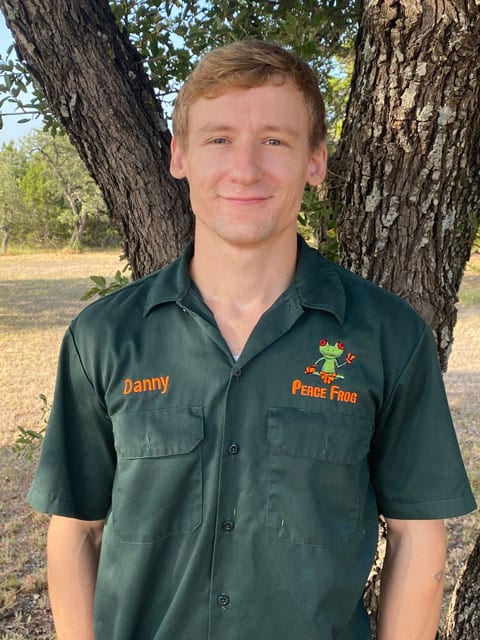 Cleaning Specialist
Danny
Danny is originally from Houston. He enjoys riding motorcycles, the outdoors and spending time with his dogs. He also enjoys radio control cars and spending time with his girlfriend. He exercises and plays video games. He has been a full-time cleaning technician with Peace Frog since early 2019. He does his best on every job to make everything perfect.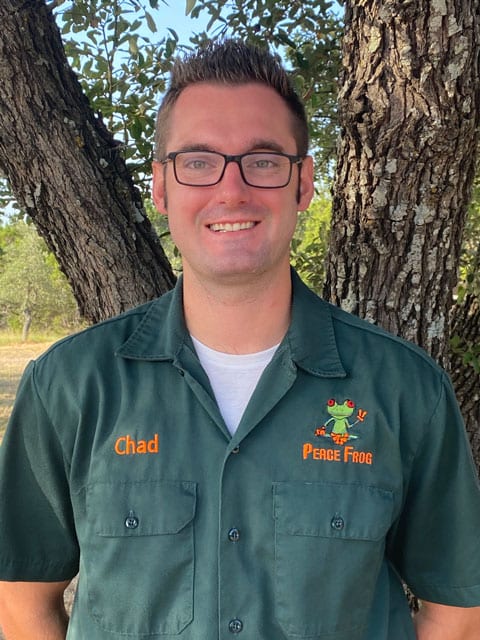 Cleaning Specialist
Chad
Chad is originally from the coast of North Carolina. He served in the United States Marine Corps and was released with honorable service. He enjoys being outdoors and fishing in his free time. Although he has been with Peace Frog for less than one year, Chad is one of our most skilled and capable cleaning technicians. His positive attitude and general demeanor is a great addition to our small growing company. We are fortunate to have him working with us!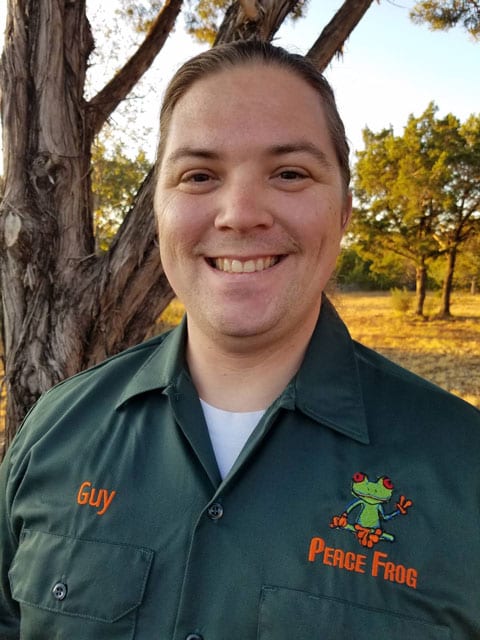 Cleaning Specialist
Guy
Guy was working at Doris Day's hotel in Carmel California when the Peace Frog owner had a chance meeting and hired him on the spot. Guy is a customer service expert. A nicer or more genuine human you'd be hard-pressed to find. Guy wears many hats in the company. You may experience him on the phone or cleaning in your home. He has an affinity for pets and enjoys spending time with his girlfriend.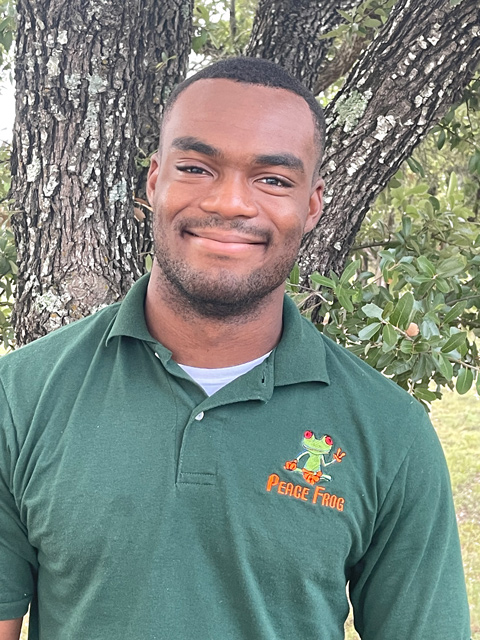 Cleaning Specialist
Lamont
Lamont is a very hard worker and always has a positive attitude dealing with costumers or not. He is originally from Washington but moved to Austin at a young age. He is a great communicator, always reliable, and loves putting smiles on people's faces. This young man will never disappoint & thrives to be the best worker with his cleaning skills.
WE'RE PROFESSIONAL
We only hire world-class and 100% customer satisfaction oriented humans.
WE'RE PASSIONATE
Passionate and hardworking employees make Peace Frog Specialty Cleaning the # 1 carpet cleaning company in Austin.
WE'RE AWESOME
Our awesome cleaning specialists are standing by to give you the clean carpets your house deserves.
What Our Clients Say!
Easy online scheduling, tons of options and services, great communication, and nice workers.

Peace Frog is a great business to work with! Very professional, friendly, and top quality work.

Ryan was unbelievably professional, the price was reasonable, and he did a great job. I will absolutely be calling these folks again. From start to finish, an incredible experience and product!

I had a great experience with Peace Frog! They charged me exactly what they quoted and there was zero up-selling, just factual information. Guy was very informative and knowledgeable. I had a large area rug and my stairs done. Guy just left so the carpets are still a bit damp but I can see the difference! After this looong covid time period, I'm so happy to have my rug and stairs clean for the holidays. I highly recommend Peace Frog and will be using them again.

On time service and responsive via text and email. Excellent work done on our couch!

Carlos was terrific! Very prompt, courteous, professional, and my carpets look great!

Very professional and great result. Would use in the future.

The technician was knowledgeable, professional and efficient.

Clarence R
22:36 19 Nov 21
Extremely happy with Peace Frog and the two men that came to my house and cleaned my carpets. They were very professional, polite, and did an amazing job. I will definitely be using them again.

This is the second time I've used Peace Frog for an extensive cleaning of all the carpeting in my house. I had such a great experience the first time that I didn't hesitate to call them again. Ryan arrived early, talked me through the whole process, no upsell's, did a spectacular job on every bit of carpeting, and even addressed a couple of spots more than once. Great service, great attitude, highly recommend! Oh, by the way, you can save some money by writing a check instead of using a credit card.

2nd time using this business- they're awesome! Always prompt, professional, and very considerate of your home. Chad came to our house today and did an awesome job cleaning a white couch and special antelope carpet. Highly recommend! They're so friendly- would recommend them to anyone I know.

Chad gave me a 30 minute heads up that he was on the way, did a great job with my couch and loveseat, and the furniture looks and smells great. Also very careful with my floors/door.

Elizabeth H.
20:22 16 Nov 21
They were on time, friendly, and did such a thorough job. I really appreciate how great our tile and carpet looked afterwards. I've used them twice before and wouldn't consider using anyone else!

Carlos was awesome and made great recommendations. This is the 2nd time we've used Peace Frog and once again we are pleased with the results!!

Have used Peace Frog for 4 years home and office they are excellent

Very professionally operated business. Technician Carlos was on time, courteous and efficient. He was very respectful and careful with our furniture. He left very clear instructions for next 8-12 hours during drying. I will definitely use and recommend this service.

Great work, as always. Jacob, our technician, was very nice, good with our dogs, and did a great job getting our carpets clean!

Allison W.
17:49 11 Nov 21
They gave me a window of arrival that was from 3:30pm to 6pm. Then I received a text asking if it was okay to arrive 30 minutes earlier, and once I said it was okay, Danny, the person cleaning my rug and couches, arrived at 3pm. He was quick and efficient. He was also very nice and respectful. Now my couches and rug look new again. This is my second time using this company and they are phenomenal at communicating, timeliness, and quality! Highly recommend.

Carolyn S.
01:16 11 Nov 21
Chad did an awesome job! Will definitely use this company again! Carpets and sofa look brand new!

Super nice & professional. Great job with the carpets and tile! Plan to use them every time.

Maureen P.
20:55 08 Nov 21