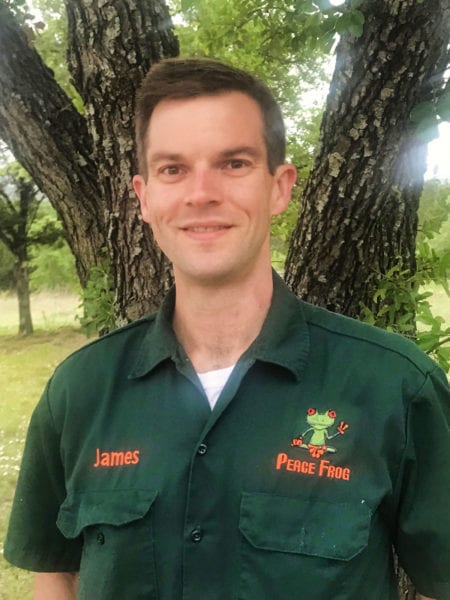 General Manager
James
James is Peace Frog's General Manager. He's been with Peace Frog for 5 years and loves what he does. He began his career as a cleaning technician and has since transitioned to a leadership role. He likes nice cars, friendly dogs and meeting new people. His passion for helping others and making this company run smoothly can't be understated. James is a Dale Carnegie Course graduate.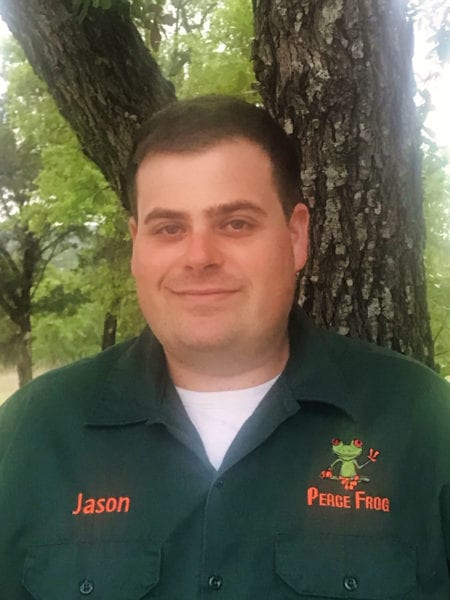 Field Manager
Jason
Jason is Peace Frog's Field Manager. He has been with the company going on 7 years and has over 5,000 completed jobs. He is newly married and looks forward to being a dad. He enjoys watching sports, eating at local restaurants and helping friends move with his truck. You would be hard-pressed to find a more reliable and honest service professional. Jason is also a Dale Carnegie Course graduate.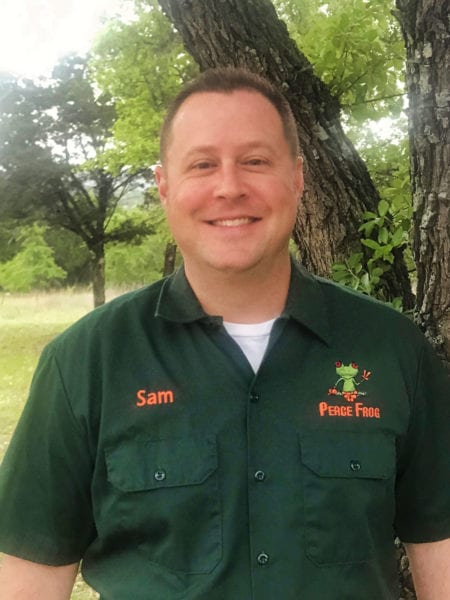 Office Manager
Sam
Sam has the pleasure of holding the title of Office Manager for Peace Frog Inc. He enjoys serving others and stands with the Peace Frog motto of Peace, Love, and Service. He loves spending time with his family. God has blessed him with a beautiful and loving wife, and two handsome energetic boys. He was born in Austin Texas and grew up in Leander Texas. He attended Texas State University and graduated with a degree in Business Management. He loves Jesus, his family, music, and super hero movies.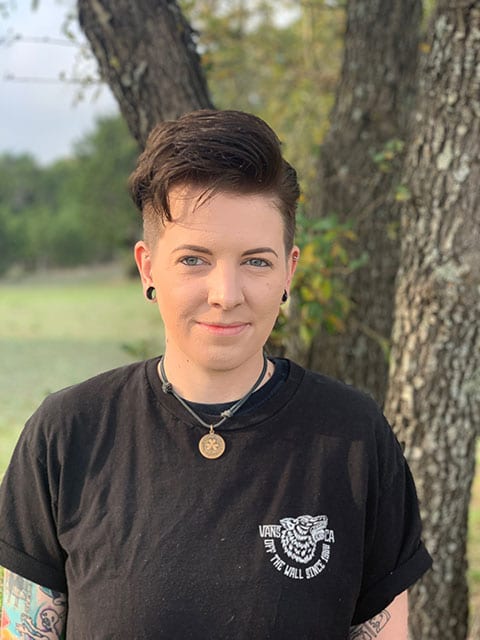 Office Staff
Lauren
Lauren moved to Austin in 2019 from Houston with her two dogs. Originally from New York she traded snow for sunshine. In her spare time she enjoys hiking, EDM raves and everything Sci-Fi. Lauren is also a huge movie buff with over 1000 DVDs and still growing. She's passionate about customer service and is an invaluable Peace Frog office staff member.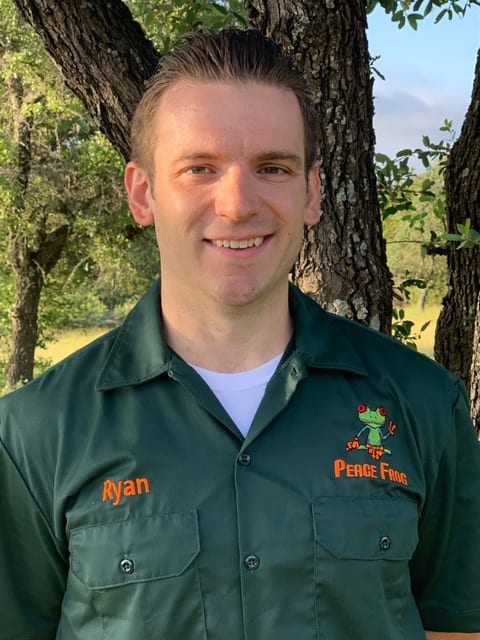 Cleaning Specialist
Ryan
Ryan was born and raised in northern Texas but has called central Texas his home for the last 10 years. He enjoys working out and competing in Spartan races and Camp Gladiator events. In his spare time he enjoys cooking and practicing one of the four instruments he can play.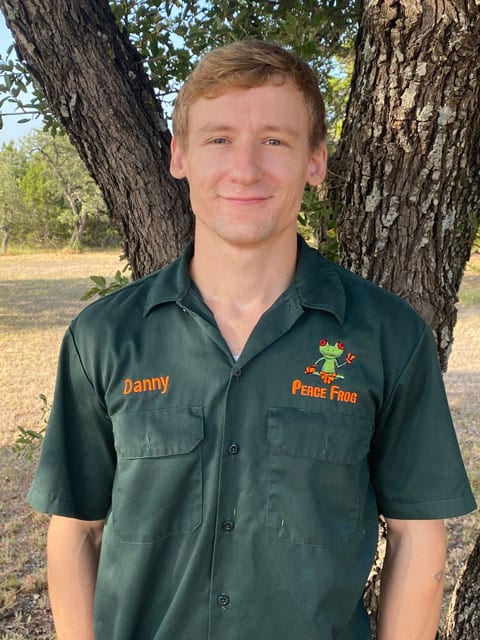 Cleaning Specialist
Danny
Danny is originally from Houston. He enjoys riding motorcycles, the outdoors and spending time with his dogs. He also enjoys radio control cars and spending time with his girlfriend. He exercises and plays video games. He has been a full-time cleaning technician with Peace Frog since early 2019. He does his best on every job to make everything perfect.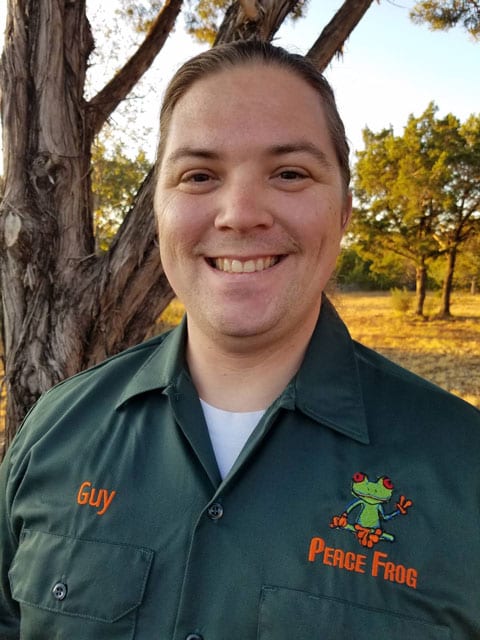 Cleaning Specialist
Guy
Guy was working at Doris Day's hotel in Carmel California when the Peace Frog owner had a chance meeting and hired him on the spot. Guy is a customer service expert. A nicer or more genuine human you'd be hard-pressed to find. Guy wears many hats in the company. You may experience him on the phone or cleaning in your home. He has an affinity for pets and enjoys spending time with his girlfriend.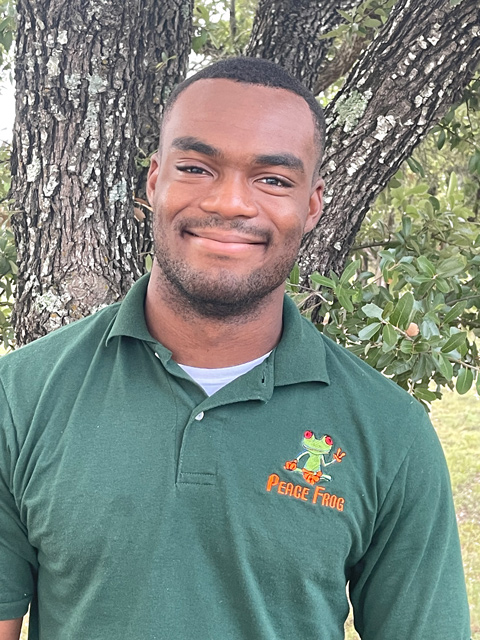 Cleaning Specialist
Lamont
Lamont is a very hard worker and always has a positive attitude dealing with costumers or not. He is originally from Washington but moved to Austin at a young age. He is a great communicator, always reliable, and loves putting smiles on people's faces. This young man will never disappoint & thrives to be the best worker with his cleaning skills.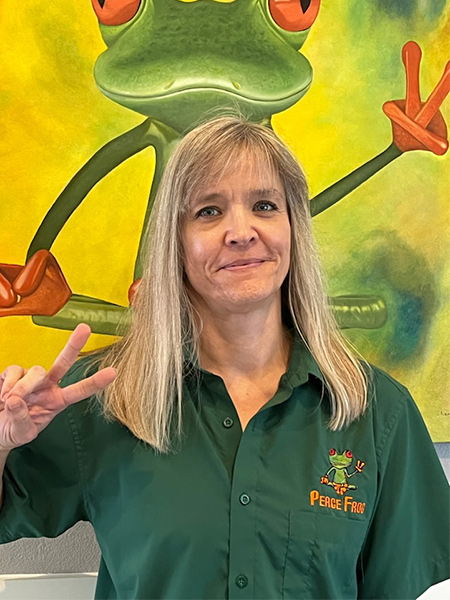 Cleaning Specialist
Lori
Lori grew up part time in San Antonio, TX and part time in Athens, Greece but moved to Austin in 2022. She lives with her two dogs Doodle & Franny. She is an avid skier and enjoys most outdoor winter activities. Lori loves to go hiking barefoot to feel the Earth beneath her feet. She finds this very calming and satisfying to her soul. She is passionate about cleaning and we are happy to have her as part of our team!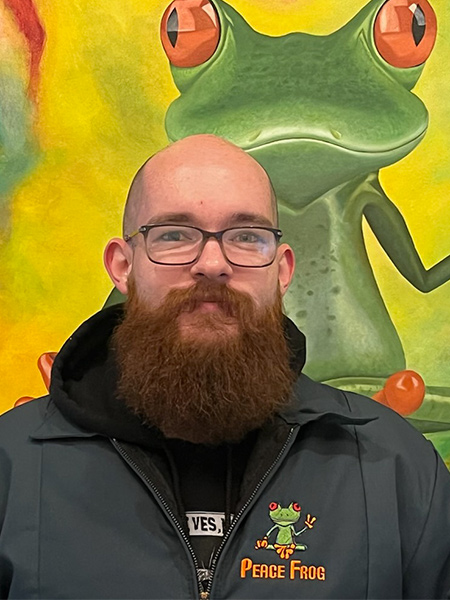 Cleaning Specialist
Jeff
Jeffrey is originally from Tyler, Texas. He has a beautiful wife of five years and two young children. He enjoys spending time outdoors, hiking, and playing disc golf. Jeffrey is currently teaching himself to play guitar. He and his family have 3 dogs and a cat. He is happy to meet your pets if you have them!
WE'RE PROFESSIONAL
We only hire world-class and 100% customer satisfaction oriented humans.
WE'RE PASSIONATE
Passionate and hardworking employees make Peace Frog Specialty Cleaning the # 1 carpet cleaning company in Austin.
WE'RE AWESOME
Our awesome cleaning specialists are standing by to give you the clean carpets your house deserves.
What Our Clients Say!
Jason, was great.professional and made sure I was happy with the work. We hired them to clean our offices, there was stains that had been there for more than 2 years and he managed to get them off. The carpet looks new ! Thanks so much Jason!

I have used Peace Frog at least 5 times and they are very responsive, professional and do a wonderful job. I had our older sectional cleaned this week by Lori and she was amazing! Great work Lori!

Great job, as usual, steam cleaning our tile and grout.

Have used twice and had an excellent experience both times. Both times the technicians have been fantastic and efficient.

From the front-office call team to the on-site quote specialist to the cleaning technician - all of my interactions with PeaceFrog have been professional, courteous, and effective. They accurately identified my carpet cleaning opportunities and challenges. Then they followed through. They just know their stuff and they do their business professionally and joyfully. I am grateful for all the other reviewers who gave high praise to this small, locally-owned business. The other reviews gave me confidence to call PeaceFrog.

Peace Frog was fantastic. We had them clean 3 rooms with carpet and they also cleaned the dryer vent, which hadn't been done in a long time. The communication from day one was excellent, and I appreciated that they confirm the day before and give you a 30 minutes heads up when they're on their way. Lori was on time and was very pleasant to work with. She explained the process and was quick and efficient. I will definitely use them in the future.

Danny did a wonderful job and was a friendly guy. The carpet looks great. Highly recommend this company to others. We will use them again.

Marilou E.
03:59 04 Aug 22
Peace Frog did a great job on our carpets. Our area rug looks like new! They did an excellent job on the inside of our car too. I would definitely use them again!

Peacefrog technicians Jason, Lorri and Guy were always prompt, with communications, punctual and displayed exemplary professionalism. Our 13 year old area rugs and floors are fresh and clean; almost like new. The pricing for floors and rugs was reasonable too. Though the turn around on the rugs was slightly longer than expected we are completely satisfied with the outcomes. We highly recommend the enthusiastic folks at Peacefrog for your tile floor and rug cleaning.

Jeffrey did an outstanding job cleaning our carpet and kitchen tiles. Prior to his arrival, he sent me a picture and text introducing himself. He informed me how far he is from our house so I can plan accordingly. I was at work and this heads up was quite helpful. He even included a short blurb about his hobbies so that helped me feel comfortable when he arrived. I knew that Peace Frog puts in effort to make their customers feel safe and valued. Jeffrey arrived on time and gave me details about how he is going to do the work. He was very thorough with it and left us with a much cleaner and neater carpet and tiles. I am happy to support this local business! Thank you!

I've been using Peace Frog since the company started and I really like their work. I use them both personally and professionally and they always do a great job.

Ryan Mason did an excellent job on cleaning my carpet, tile, rugs and chairs. My next door neighbor recommended Peace Frog and I'm so glad that I followed her suggestion. I am loving that my house smells so fresh and clean!Thank You Ryan and Peace Frog!

Peace Frog did the most amazing job cleaning our carpets. They were the best priced in the area. I will use them again in the future.

Jessica K.
19:46 19 Jul 22
We had a great experience working with Peace Frog! They were prompt and clear with all communication, were punctual, and everyone was so kind and courteous. Their pricing was fair for the services, and their technicians did an incredible job cleaning all of our carpets, tile, and hardwood floors in our new house. Will definitely hire them again for jobs in the future!

Ryan showed up when he said he would and did a fantastic job. Very courteous. I will highly recommend Ryan and Peace Frog in the future.

Darrell L.
00:02 19 Jul 22
Will definitely use Peace Frog again

Ryan and Lamont did a great job on my carpets and tile, and they were professional, knowledgeable, and friendly. I never expected my older carpets could look so good and the stains removed. I knew Peace Frog was good, and they exceeded my expectations. Peace Frog customer service is state of the art!

Peace Frog was amazing! I needed my couch cleaned after a long-distance move left it in rough shape. After reading reviews, this company seemed like it was the best bet and it certainly did not disappoint. Despite being very busy, they were able to squeeze me in for a last-minute appointment same day. The technician (Jason) gave notice when he was on his way and arrived right at the start of the appointment window. He could not have been nicer and the couch looks good as new. Jason also provided several helpful spot-treatment solutions should stains present in the future. Very happy with the service and would highly recommend!

Ricky was our technician and he was awesome!!! Super professional - pointed out a couple of paint spots that we hadn't even noticed. Did such a great job. The couch and loveseat look like new and smell even better. I would use Peace Frog again and would ask for Ricky. Great service - very happy!!!

Danny did a great job & was very professional