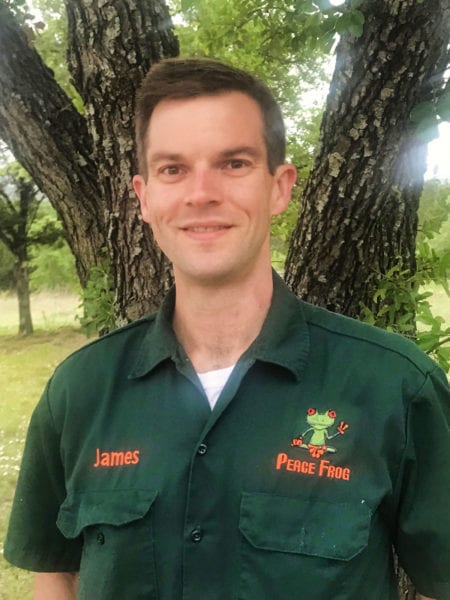 General Manager
James
James is Peace Frog's General Manager. He's been with Peace Frog for 5 years and loves what he does. He began his career as a cleaning technician and has since transitioned to a leadership role. He likes nice cars, friendly dogs and meeting new people. His passion for helping others and making this company run smoothly can't be understated. James is a Dale Carnegie Course graduate.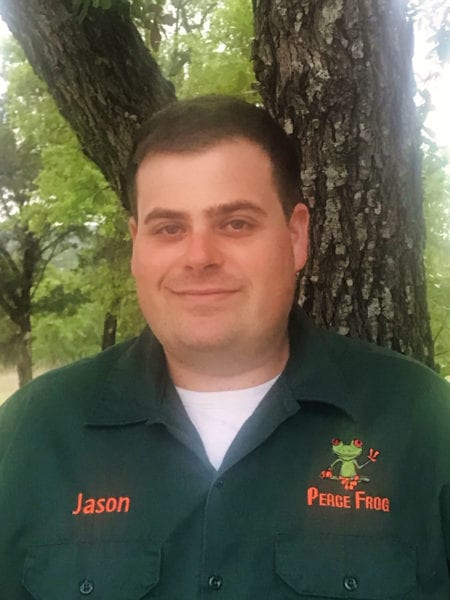 Field Manager
Jason
Jason is Peace Frog's Field Manager. He has been with the company going on 7 years and has over 5,000 completed jobs. He is newly married and looks forward to being a dad. He enjoys watching sports, eating at local restaurants and helping friends move with his truck. You would be hard-pressed to find a more reliable and honest service professional. Jason is also a Dale Carnegie Course graduate.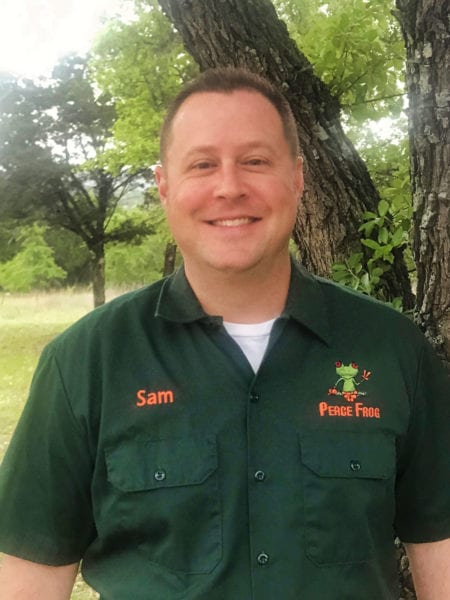 Office Manager
Sam
Sam has the pleasure of holding the title of Office Manager for Peace Frog Inc. He enjoys serving others and stands with the Peace Frog motto of Peace, Love, and Service. He loves spending time with his family. God has blessed him with a beautiful and loving wife, and two handsome energetic boys. He was born in Austin Texas and grew up in Leander Texas. He attended Texas State University and graduated with a degree in Business Management. He loves Jesus, his family, music, and super hero movies.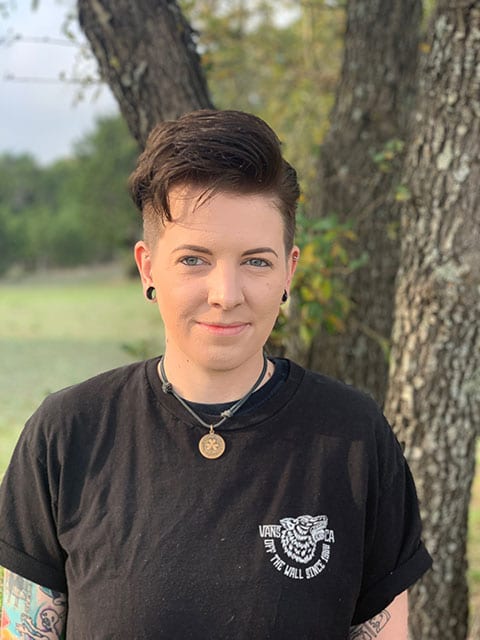 Office Staff
Lauren
Lauren moved to Austin in 2019 from Houston with her two dogs. Originally from New York she traded snow for sunshine. In her spare time she enjoys hiking, EDM raves and everything Sci-Fi. Lauren is also a huge movie buff with over 1000 DVDs and still growing. She's passionate about customer service and is an invaluable Peace Frog office staff member.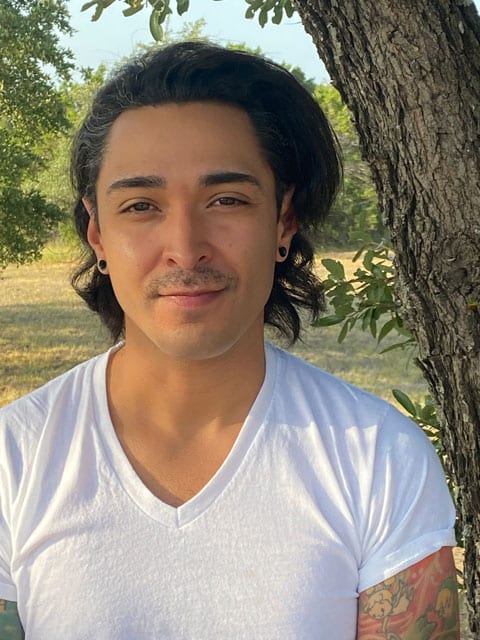 Office Staff
Randall
Randall was born and raised in Los Angeles, California. He is forever a kid at HEART and lives his life to the fullest with a positive attitude! He's a collector of VHS and vinyl records. He loves classic horror flicks and enjoys Retrowave music. He is also a beer and wine enthusiast. He is a customer service expert with many years of phone and scheduling experience. When you call Peace Frog, Randall just might be the one to take your order and help you out. We're happy he is on our team.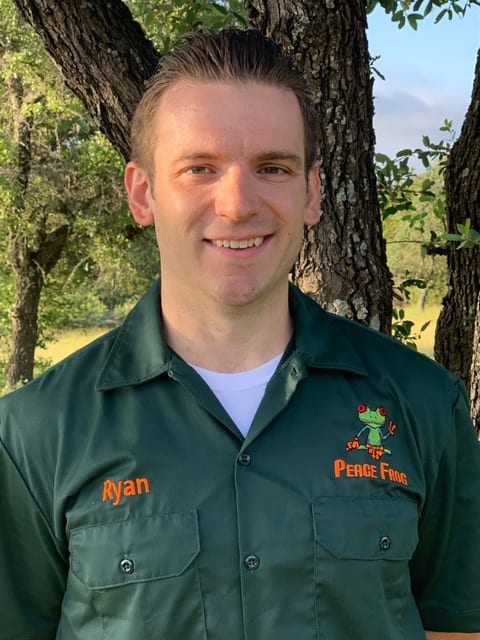 Cleaning Expert
Ryan
Ryan was born and raised in northern Texas but has called central Texas his home for the last 10 years. He is happily married. Him and his wife love to work out together, enjoy competing in Spartan races and Camp Gladiator events. In his spare time he enjoys cooking and practicing one of the four instruments he can play.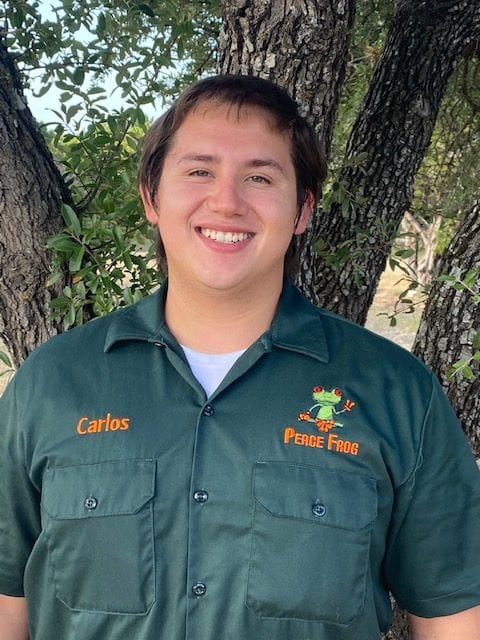 Cleaning Expert
Carlos
Carlos likes to restore or modify cars. He loves playing and listening to 50's, 60's and 70's classic rock. He enjoys cooking homemade dog food and taking hikes with his 3 dogs. He has a 17 year old chihuahua since he was 8, a 7 year old Pomeranian he found Christmas Eve of 2017, and a 4 month old white German Shepherd husky, with his girlfriend of 6 years. He loves cleaning and working at Peace Frog!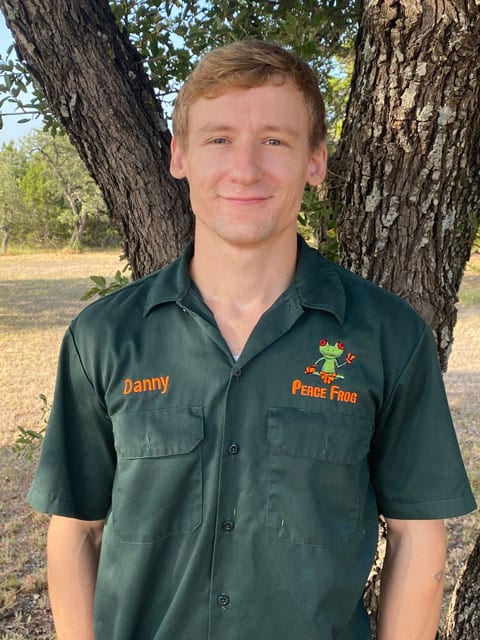 Cleaning Expert
Danny
Danny is originally from Houston. He enjoys riding motorcycles, the outdoors and spending time with his dogs. He also enjoys radio control cars and spending time with his girlfriend. He exercises and plays video games. He has been a full-time cleaning technician with Peace Frog since early 2019. He does his best on every job to make everything perfect.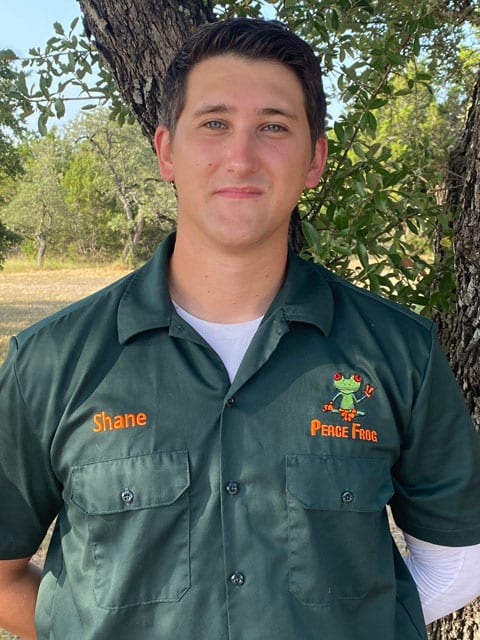 Cleaning Expert
Shane
Shane is an active member of the National Guard. He has 5 years customer service experience. He is engaged to be married later in 2020. He enjoys hiking with his dog and seeing historical locations. He enjoys running in the evenings and reading before bed. We're lucky and fortunate to have Shane working for Peace Frog.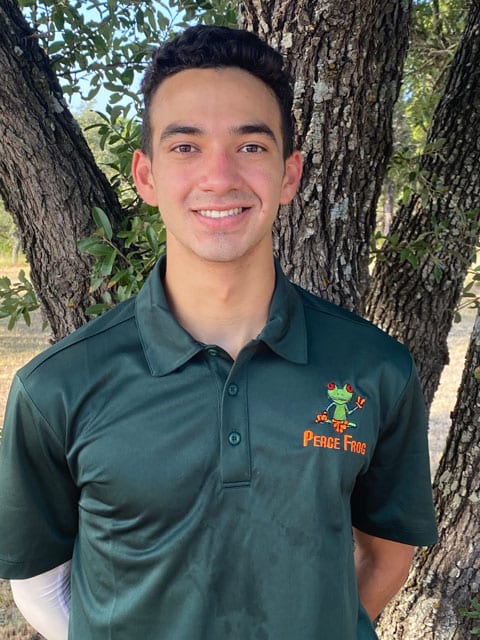 Cleaning Expert
Sebastian
Sebastian enjoys hiking and getting outdoors as much as possible, especially hunting and fishing. He is originally from Southern Georgia and has been living in Texas for 5 years and couldn't love it more. He always has a positive attitude and smiles a lot. Peace Frog is a better company now that he works with us.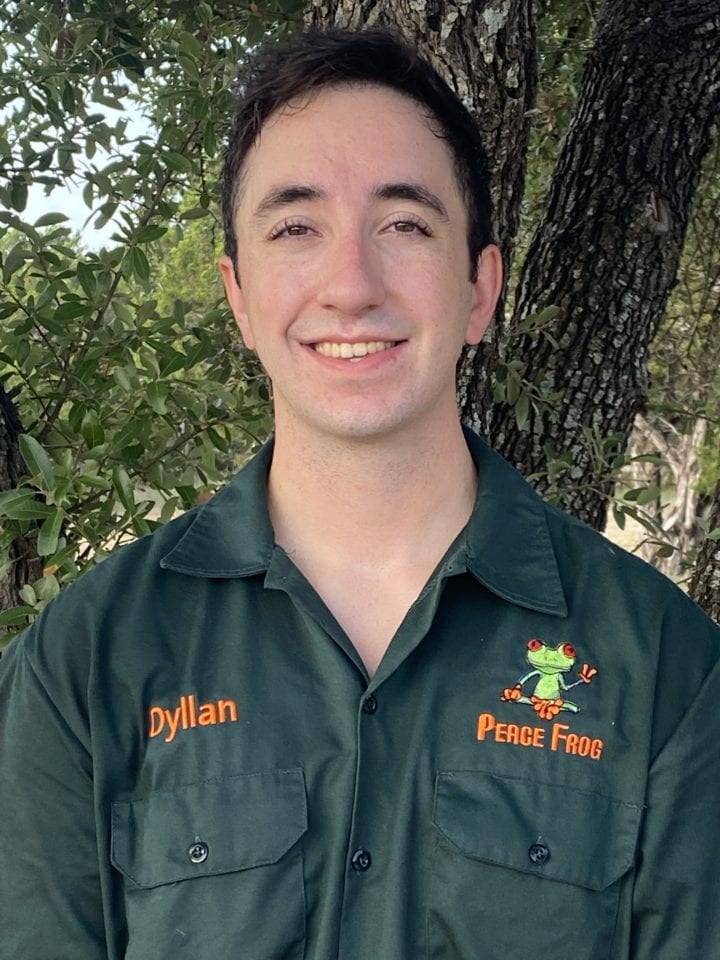 Cleaning Expert
Dyllan
Dyllan is originally from Cleveland Ohio. He moved to Texas 4 years ago and more recently moved to Austin to be a part of the Peace Frog Gang. He enjoys basketball and video games. He is a fine young man. You'd be hard pressed to find a nicer or hardworking man. We are lucky to have him.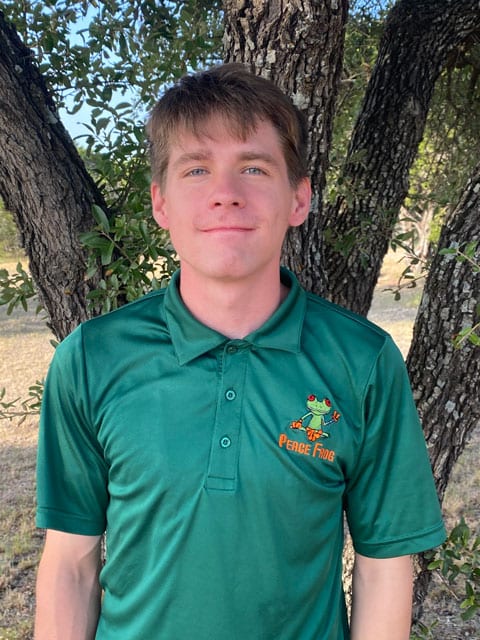 Cleaning Expert
Andrew
Andrew is the oldest of two brothers. He recently moved back to Austin from Colorado. He enjoys video games,(maybe a little too much) reading and riding his longboard skateboard around the neighborhood in cool weather. He is motivated by being busy and constantly staying active. He pushes himself to be his best. You will enjoy having this nice young man in your home. Peace Frog is grateful to have him working on our team.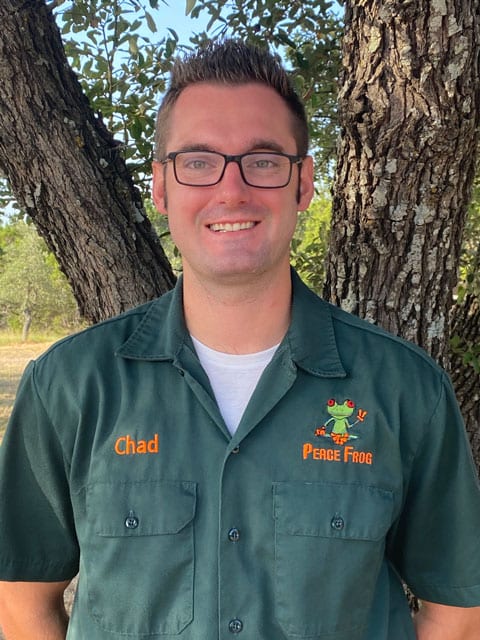 Cleaning Expert
Chad
Chad is originally from the coast of North Carolina. He served in the United States Marine Corps and was released with honorable service. He enjoys being outdoors and fishing in his free time. Although he has been with Peace Frog for less than one year, Chad is one of our most skilled and capable cleaning technicians. His positive attitude and general demeanor is a great addition to our small growing company. We are fortunate to have him working with us!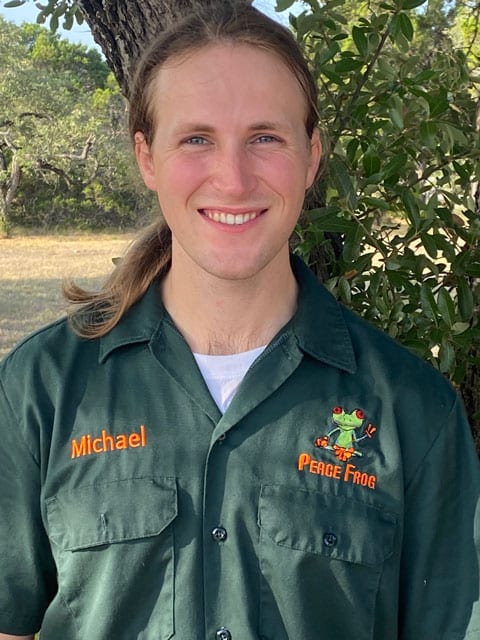 Cleaning Expert
Michael
Michael moved to Texas in 2011 from North Carolina. He married a beautiful lady in March 2019. He is vegan and enjoys spending time with his wife and dog. Michael is a hard worker, shows up to work on time with a positive attitude and never complains. He is a great addition to the Peace Frog Family. We are fortunate to have him.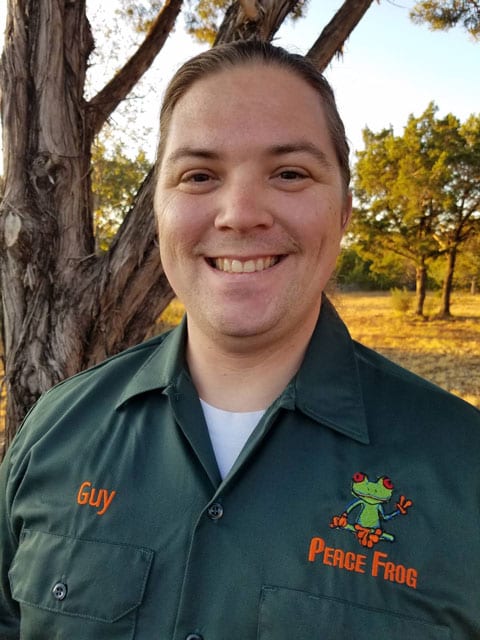 Cleaning Expert
Guy
Guy was working at Doris Day's hotel in Carmel California when the Peace Frog owner had a chance meeting and hired him on the spot. Guy is a customer service expert. A nicer or more genuine human you'd be hard-pressed to find. Guy wears many hats in the company. You may experience him on the phone or cleaning in your home. He has an affinity for pets and enjoys spending time with his girlfriend.
WE'RE PROFESSIONAL
We only hire world-class and 100% customer satisfaction oriented humans.
WE'RE PASSIONATE
Passionate and hardworking employees make Peace Frog Specialty Cleaning the # 1 carpet cleaning company in Austin.
WE'RE AWESOME
Our awesome cleaning experts are standing by to give you the clean carpets your house deserves.
What Our Clients Say!
Extremely knowledgable and professional!

Samuel Jackson C.
20:28 17 Sep 21
Excellent service. Knowledgeable, friendly and thorough technician (Ryan). We are very happy with our carpet cleaning and would recommend Peace Frog Cleaning to anyone needing this type of service! Our carpets look and smell amazing - thank you!

Allyson R.
19:49 17 Sep 21
Great experience with this company! Easy scheduling, prompt arrival, quick but thorough cleaning of our carpets. Will use again!

Texaskerry
16:17 17 Sep 21
Very professional. Great quality. Extremely dependable.

Technician was friendly, answered our questions and assisted in moving a few items to better clean the carpet.

armando C.
00:16 17 Sep 21
This company is wonderful. If you are just looking for an excellent company to work with who will get the job done without any hassle, then book with Peace Frog. They are easy to communicate with and highly responsive. The technicians they sent led by Carlos were outstanding. Very professional, respected our wishes to wear masks and shoe covers, and took care of the stains on our carpet quickly and effectively. The experience was so pleasant that I will use Peace Frog again when I need carpet cleaning. Highly recommend.

what great service. Cleaned by dryer vent in no time! Carlos was very nice and noticed by veteran plates and told me I get a discount. Can't beat such great service!

Had a great experience with Peace Frog. They were easy to work with, professional, showed up on time, and did a great job on our carpets. 5 stars all around!

Jason and Lamont were a great team, they cleaned our carpets so well. They were personable, professional, courteous and informative. We even got a coveted frog mug!

Wonderful experience! I will absolutely use their services again.

Brightened my home and my day! What a treat.

kristen von M.
19:39 11 Sep 21
Jacob, our technician, was not only on time but offered to be there early! (we had to decline, as we weren't home yet.) He was very respectful of our home, did a careful job of setting up the cleaning hoses etc, and made quick work of the 2 rooms. I asked about raking up some really beaten-down spots in the kitchen area rug, and he gladly obliged.Very friendly and answered questions, good work, Jacob! And we will definitely consider Peace Frog for future cleaning jobs!

Second time using their service and they always knock it out of the park.

They did a great job. Arrived on time.

whiskey2117
15:03 08 Sep 21
Great service, our rugs are cleaner !! Thank you Danny!!

What a great bunch of human beings this company has. Always quick to respond, always reasonable ... Danny was excellent: polite, efficient and willing to answer my never ending questions. All round great experience. do yourself a favor and don't look anywhere else for your cleaning and sanitation needs.

Peace Frog was awesome. Easy communication, professional, and courteous from the scheduler, to the GM estimate, to the technician Danny who cleaned our home. Peace Frog GM was upfront about what they could do for us and did not nickel and dime or try to upsell us. There were no hidden fees. The technician Danny went above and beyond to remove stains and overdelivered. We are thrilled with the results. Top notch experience, would highly recommend Peace Frog!

Peace Frog was so easy to work with and the technician, Carlos, was super friendly, quick, and thorough. Would recommend 10/10!

We had our tile cleaned and sealed.The entire experience was fantastic! Great communication, Jacob was very professional, they were upfront about pricing and made sure to get an accurate measurement of the space. PeaceFrog was without a doubt one of the best companies I've worked with this summer. Friendly, honest, and professional as well as doing high quality work.Thanks!

Peace Frog just cleaned carpet and tile for me. The gentleman that did the cleaning was very nice and professional. The carpet and tile look great and the house smells good too. I would definitely recommend!