Carpet Protection from Peace Frog Carpet & Tile Cleaning
Carpet Protection Systems from Peace Frog Carpet Cleaning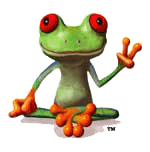 Wouldn't it be nice if you could insure your carpet investment?...You can!
-Austin P. Frog
No matter how powerful the carpet cleaning machine, or experienced the technician, some stains just will not come out. Stop stains before they happen! There is another solution rather than placing a plant over that conspicuous eyesore.
Peace Frog Carpet & Tile Cleaning recommends protecting your carpet investment with Scotchguard Carpet Protection for long-lastin stain-free carpet life. In addition, carpet protectant keeps daily soil from grinding down your carpet fibers causing ugly, worn, "traffic areas."
Did you know that you can protect your furniture from future stains after an upholstery cleaning as well?