Carpet Protection Systems from Peace Frog Carpet Cleaning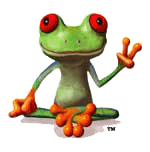 Wouldn't it be nice if you could insure your carpet investment?...You can!
-Austin P. Frog
No matter how powerful the carpet cleaning machine, or experienced the technician, some stains just will not come out. Stop stains before they happen! There is another solution rather than placing a plant over that conspicuous eyesore.
Peace Frog Carpet & Tile Cleaning recommends protecting your carpet investment with Dupont Teflon™ for long-lastin stain-free carpet life. In addition, carpet protectant keeps daily soil from grinding down your carpet fibers causing ugly, worn, "traffic areas."
Did you know that you can protect your furniture from future stains after an upholstery cleaning as well?
Contact Us Today For A Free Quote
If you are not thrilled with the quality of our workmanship we will come back and clean it again for free! Please ask our famously friendly technicians to re-clean any problem areas during the initial visit. If stains reappear within 14 days we will be delighted to return at no charge. Peace Frog carries 1 million dollar liability insurance for your Peace of Mind and ours. Give us your business. You'll be happy you did!