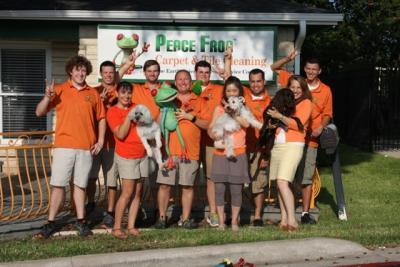 If you are getting tired of having to do your Austin, TX upholstery cleaning all by yourself there is an easy solution. So the next time your sofa or chairs look far too dirty to sit on and you do not to wash them simply contact us. We are a local company that are able to undertake a whole range of commercial as well as residential cleaning services. Everybody that works for us is capable of delivering all of these differing tasks to a high standard of work. We will make your upholstery look brand new.
The problem with upholstery is that it can get dirty or stained quite easily. Especially in houses with toddlers, small pets, or people that are prone to spilling things. Now some furnishings have washable covers that be replaced. Yet with larger furnishings that is not always an option, which means can choose to do the upholstery cleaning by themselves, or they can hire specialist cleaners like us. Before considering the costs of hiring cleaners as being too high consider the cost of buying or hiring the cleaning equipment. Some of the equipment we use is specialist and is not available for the public to buy or hire. So our equipment is the best available, any that you hire may not be.
In many ways if you have urgent Austin, TX upholstery cleaning issues it makes a great deal of sense to hire us to complete the task for you. Our teams are fully trained and use all equipment properly. Some of the steamers and chemicals used for this type of cleaning can be dangerous if used incorrectly. Our teams will not risk injury to themselves or damage to your property. We provide professional cleaning at reasonable prices.