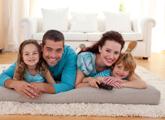 Area rugs are beautifully designed and add an element of sophistication to any room in your home that you have them placed. They can also be high-priced, which is why you should do what is necessary to keep them looking like new.
Most likely, you have placed your rugs in rooms that are widely used in your home such as in the living room, dining room and family room. If so, they will get dirty from everyday living as well as from pet stains, spilled drinks and from people accidentally dropping food on the rugs.
Regular vacuuming once or twice a week will help keep your rugs free from dirt on the surface, but if you want them to be thoroughly cleaned, it is best to contact a professional Austin, TX area rug cleaning company like ours to deep-clean your rugs.
We will not just remove crumbs and lint from your rugs. Our powerful cleaning method goes beyond normal cleaning and will get to the dirt and debris that is trapped in the fibers of your rugs. Our cleaning methods are effective but are gentle on the fabric of your area rugs.
In addition, we use modern equipment that will not rip or tear the material of your rugs. Plus, we do not use any harsh chemicals that could stain, fade or discolor your valuable area rugs.
We have a trained and skilled team of experts that will carefully and safely clean your area rugs. Your rugs will dry quickly and will not have any sticky residue because they will not be overly wet or soapy.
Our Austin, TX area rug cleaning company is well-established and reliable, which is why you should call us today at (512) 259-6606 and make an appointment to clean your dirty rugs. When the job is complete, your rugs will smell fresh and will look like new again.