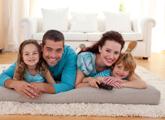 Carpet and Area Rug Cleaning Ceder Park, TX Services
Your home gets a lot of traffic going through it. There's you and your family, your pets, and then there are guests. The floors of your home tend to get dirty and – sometimes – just plain, old, gross. It doesn't have to be that way, though. You don't have to suffer through dirty floors. We are here to help, and we will clean up your home. Our carpet and area rug cleaning Ceder Park, TX services will help to ensure that your home isn't gross. We will clean up the floors in your home so that you can feel good about them, and so that you don't have to worry about cleaning them up on your own.
If you have a baby in your home, you know how important it is to have clean floors. Little ones tend to spend a lot of time on the floor, and they tend to put their hands and toys into their mouths, too. Don't you want your little one to have a clean floor to play on? A clean place for their hands and toys to go before they reach the mouth? We offer carpet and area rug cleaning Ceder Park, TX services so that you can rest easy when your child decides to lick the floor. We are here to help you, so that your entire home can be clean and safe – even for the smallest members of your family.
We offer cleaning services that are professional in quality. We will treat your home with respect, as if it were out own home. We will clean your home in a way that gives you peace of mind, getting out the dirt that you, your family, and your pets track in.