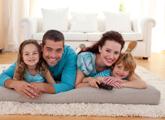 DIY Upholstery Cleaning Austin, TX – Easy Tips
Your sofa lets you rest when you're tired and unwind after a long day in front of the idiot box. Due to our various sojourns on it, we end up dirtying our living room upholstery with stains, spills, pet hair etc..
We, at Peace Frog Carpet Cleaning, will take care of your upholstery cleaning in Austin, TX and bring the 'newness' and the old charm of your couch back – professionally. But if you'd like to try upholstery cleaning yourself, we have listed a few tips for your DIY task:
If lucky enough to get to the stain quickly and it is still wet, you should use the edge of a rubber spatula to get as much off it, as you can, but take extra care not to rub it in. Get rid of the big chunks first, scrape any dry crusty matter off with the edge of a spoon; or just vacuum them away.
You can also make your own cleaning solution:
To make your own natural upholstery cleaner, take ¼ cup of your favorite biodegradable detergent and pour into a mixer bowl, along with 1 cup of lukewarm water. Using an egg beater, beat the mixture till it is of a meringue like consistency. That is your DIY upholstery cleaning Austin, TX solution
Using a soft-bristled brush, and softly rub some of the foam into the stain, and watch how the foam attracts all the dirt and grime. Now get rid of the soiled foam with the help of a rubber spatula and gently wipe the spot you just cleaned with a dampened clean white cloth.
Make sure that the furniture has dried thoroughly, so as to avoid mildew, and check whether the cleaning process needs to be repeated.
For professional and quality upholstery cleaning Austin, TX services, call us at (512) 259-6606 for immediate and immaculate cleaning.