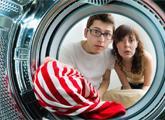 Dryer Vent Cleaning in Austin, TX
One of the most unsafe areas of your home can be the dryer vent, if not serviced and managed properly. Having a professional dryer vent cleaning in Austin, TX will help to prevent an unsafe situation. If your dryer is still getting hot, but takes too long to dry your clothes, there is probably a fire hazard present within the dryer exhaust ducts located between the back of the dryer and the outside of your home. Ignoring the warning sign of extreme, extended, drying times can mean danger and ultimate disaster should a fire ignite.
Every time the dryer is used, a portion of the lint that is pulled from your clothes during the drying process is collected in the dryer exhaust ducts. Over time, these ducts become coated with layers and layers of lint until the air-flow is partially restricted. At this point, there isn't proper air-flow to the outside of your home and heat will build up in the venting line. This restriction forces your dryer to work harder and for an extended amount of time with each load of laundry. This causes you to spend more money in electric bills and more time doing laundry. Eventually, the layers build up and the vents become completely blocked. Once this happens, the hot air has no place to go and gets hotter and hotter which presents a dangerous fire hazard.
Before this dangerous, unwanted scenario occurs, make sure to have your dyer ducts inspected and cleaned by us. We are a leading company in the dryer vent cleaning industry here in Austin, TX and eager to help make your home run efficiently without wasting money and time waiting for clothes to dry. We are dedicated to making sure your home is safe. Give us a call today at (512) 259-6606 for you dryer vent cleaning today in Austin, TX!