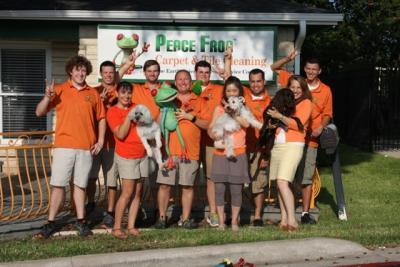 Expert Austin, TX Pet Odor Removal by Peace Frog Carpet Cleaners
We at Peace Frog Carpet Cleaners love our pets. Those cute balls of fur brighten up your dull days and are always around to support you – through the good, the bad and the ugly.
Having said that, we need to add the not-so-bright side of having pets – Austin, TX pet odor removal from your rugs and upholstery as your furry friends can make it quite challenging to keeping your home clean, germ-free and smelling fresh.
Not only is it annoying and tough to handle a pet accident (like fresh poop or stale urine) once it has happened, but it is also quite difficult to locate exactly where past nasty accidents may have taken place – some of which you may not have been aware of even.
Peace Frog Carpet Cleaners can correctly identify all pet accidents in your lovely home and completely eliminate past and present pet urine and poop odors from your favorite carpets and soft rugs.
Our trained professionals expertly carry out the Austin, TX pet odor removal by applying our revolutionary carpet cleaning product – P.U.R.T – which stands for Pet Urine Removal Treatment.
This safe and effective cleaning solution connects with the source of the awful odor, and then instantly initiates a chemical reaction which efficiently destroys all the urine and pet poop odors. P.U.R.T has displayed amazing results on even the most severely urine-soaked/damaged rugs and carpets.
So, whatever the state of your carpets and upholstery – our trained technicians will take good care of them and remove all pet odor from your home.
If not treated in time and in a proper manner, the odor from unfortunate pet accidents can travel through your whole house and may end up impacting the health and happiness of you and your family. Call for proficient professional help immediately (512) 259-6606.
Expert Austin, TX Pet Odor Removal by Peace Frog Carpet Cleaners