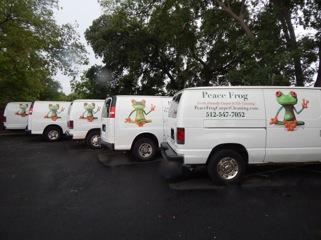 Carpets are a lovely part of a home's interior and they add comfort as well as beauty. Vacuuming a home's carpeting is important, but sometimes dirt and grime become far embedded in the carpet. This can leave carpets dull and dingy, and a dirty carpet can produce an unpleasant odor as well as unhealthy dust particles. Now is when it's time to call the professionals. In Austin, TX truck mounted carpet cleaning is a process that uses a van with a large powerful carpet cleaner. This machine can remove dirt and grime that household vacuum and steam cleaners just can't reach.
When you go with the our Austin, TX truck mounted carpet cleaning option, a large van will park near your doorway and the professional carpet cleaner will run large hoses from the cleaning machine inside the van into your home. The powerful machine will push steaming hot cleaning solution through one hose and out the cleaning nozzle. The output side of the nozzle will force the cleaning solution into your carpet while the return side pulls the solution, mixed with dirt and grime into the return hose. Finally, the truck mounted machine pulls the dirty solution through the return hose into the return tank.
When the cleaning is complete, the professional will pull the hose back into the van and leave to properly dispose of the waste water. Your carpet will look beautifully new, and your home will smell nice again. You can enjoy your home's interior and care for your beautiful carpeting until it is time for another cleaning.
Occasional professional truck mounted carpet cleaning is one of the best and quickest ways to drastically improve your home's interior. It is also a great way to improve an office or workplace and is a worthwhile investment. You will enjoy your improved living or working area and you will feel excellent for making a superb decision.