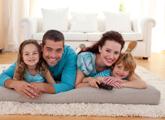 If you are looking for a cleaning service for your home or business to get area rugs cleaned, then you have found the right place. We offer the highest quality Austin, TX area rug cleaning services at discounted prices you will love. Cleaning your own area rugs can cost you both time and money. Let the professionals help you save quite a few bucks. Contact us now for a quote online or by phone at (512) 259-6606.
Area rugs get dirty and dull from walking. Your area rugs can look clean, fresh and new again. We use professional Austin, TX area rug cleaning solutions that are never harmful to the environment and they are safe for use on any area rug in homes or business. Having clean area rugs will surely get you many great compliments and give your room a fresh and clean appearance as well. Our cleaning team has been certified and highly trained to clean area rugs. When area rugs are cleaned by professionals, you will notice that you get longer lasting use of them.
Don't waste time or money trying to do this tough job alone. Here are just a few things that can happen to ruin your day: damage to your rug, discoloration from the wrong cleaning solutions, and not being thoroughly cleaned. Don't let this happen to you. All you have to do to make the job much easier is to call the professional area rug cleaners today and tomorrow your rugs will look like new again. Share your good news with your family and friends about the professional area rug cleaners. Start making your great investment by keeping area rugs clean and let the professionals help.
High Quality Austin, TX Area Rug Cleaning at Affordable Prices