Natural Stone Cleaning in Georgetown
Natural Stone Cleaning For Marble, Limestone, Slate and Sandstone
There are few things we do at Peace Frog that reveal the beauty of a surface like natural stone cleaning. Georgetown is in our service area, and we never stop appreciating the breathtaking beauty of the town. Whether it's the red poppies in the Spring or the natural stone floors in a client's home, our cleaning experts love taking time to appreciate the beauty in Georgetown.
Our professional natural stone cleaning services – just like our carpet cleaning, pressure washing, and pet odor cleaning – are completely eco-friendly. After all, homes are meant to be lived in: and if you're not enjoying yourself (which for many of us involve late night chats sitting on the kitchen floor, or crawling around in the hallway looking for that hard-to-see thing we dropped), you're not living. We know that life doesn't just happen on foot, so we make sure that every surface that we clean is safe for everyone – large and small – to be in close contact with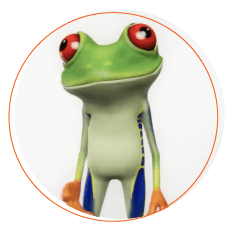 "Happiness is Scootin' Around on Clean Natural Stone Floors"
Doing a fantastic job cleaning natural stone tiling is about more than the technical part of the job. The experts at Peace Frog, aside from being exceptional at cleaning natural stone surfaces, are fantastic humans who strive to give you an excellent customer experience. From the moment they take a look at the natural stone surfaces you would like cleaned to the moment that they bid you farewell, the aim of the game is that you feel comfortable with our service.
Therefore, our cleaning experts put forth the effort to be great communicators. They have no trouble taking the time to speak with you in depth about their work before beginning and are happy to answer any questions you may have about the process and the results you can expect. We like to be on the same page with our customers.
When you make an appointment with Peace Frog to clean your natural stone tiling or other stone surfaces, you can relax knowing that the job will be handled well by a friendly professional. So sit back and smell the poppies, secure in the knowledge that having the cleanest stone tiling and grout in Georgetown is just a phone call away.