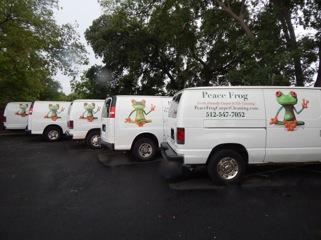 If you have carpeted floors in rooms in your home that are well-used such the den, family room, ding room, bedroom and playroom, most likely the carpeting will get dirty over the months. If you are a pet owner, your beloved cat or dog will probably have a few accidents on your carpets.
Daily life happens such as people walking on carpets with dirty shoes, babies spitting-up, kids spilling sugary drinks and friends dropping saucy foods on the carpeting, which is why it is a good idea to have your carpeting deep-cleaned by well-trained professionals once a year.
There are various carpet cleaning methods available today. One of the most effective to date is our Round Rock, TX truck mounted carpet cleaning. It offers a powerful clean that removes hidden dirt and debris that other cleaning methods may not be able to reach.
Truck mounted cleaning also offers a faster drying time because of the high level of water pressure and high heat level that is used to clean your carpeting. Your carpets will be thoroughly cleaned and will not be overly wet when the job is done.
Plus, all stains, dirt and odors will be washed away and your carpeting will look brand new and will have a fresh and clean smell.
There is also more vacuuming suctioning power when truck mounted carpet cleaning is used, which means your carpets will be free from dirt and debris that regular vacuuming cannot remove.
Another advantage is that the technicians will not drag any messy equipment into your home. In fact, the only equipment that will enter into your home is the lengthy hose that is attached to the cleaning van. Everything else such as the cleaning solutions, deodorizers, water and tools are left on the truck for use.
Contact our experienced and highly regarded Round Rock, TX truck mounted carpet cleaning company if you want the carpeting in your home to be thoroughly cleaned.
Our Round Rock, TX Truck Mounted Carpet Cleaning Has Several Benefits