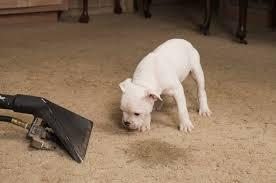 In today's family, our pets have become increasingly more important. We let our pets sleep in our beds, lounge with us on our couches, and even share family meals with us. But sometimes our pets can leave behind certain odors and stains that are less than ideal, especially when you're about to host a dinner party or a holiday. Before you send your favorite four legged friend outside, schedule a pet-friendly Austin carpet cleaning with Peace Frog Specialty Cleaning! Our technicians have been expertly trained and have a fantastic track record of eliminating pet stains and odors from carpets.
When you schedule a pet-friendly Austin carpet cleaning from Peace Frog, you can expect your technician to use black light technology to pinpoint exactly where those pet stains are on your carpets. Your technician will then use a neutralizing agent that will kill bacteria and remove odors. Before you know it, your carpets will go back to being their prettiest and freshest that they've been in a long time.
When pets leave behind stains they also leave behind odor and bacteria, which are harmful for your health and for the carpets. If the pet stains accumulate and sit on the carpets for a long time they can soak into the carpet padding and could possibly cause you to replace the carpets in your house. Save some money and time by calling Peace Frog. Despite what many people say, it is possible to have a clean house with animals inside, especially with Peace Frog by your side. If you notice a pet stain on your carpets, don't wait long to call Peace Frog Specialty Cleaning! Call today for more information and for a no-obligation quote.