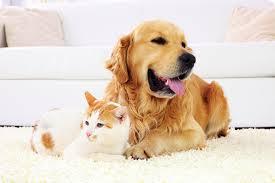 Here at Peace Frog Specialty Cleaning, we know that Austinites are crazy about their pets. Our city is consistently at the top of pet-friendly cities, and you constantly see four legged friends out on the lake, at bars, restaurants, and sometimes even in businesses. Pet lovers typically love to share their homes with their furry friends, and as a result, it can take a toll on the carpets in your home. If your pet has left a lot of stains or your carpet simply needs some freshening up, call Peace Frog, a pet-friendly carpet cleaner in Austin!
When you schedule a Peace Frog carpet cleaning you can rest assured that our carpet cleaning services are completely safe for your pet. Our carpet cleaning solution contains no harsh petrochemicals and is detergent-free and eco-friendly. Your carpet cleaning technician is an expert in all things carpet and will ensure that your home looks and smells fresh at the end of the cleaning. If your home needs it, your technician will use black light technology to pinpoint pet stains and eliminate bacteria and odor from your carpets that pets often leave behind. With Peace Frog by your side, you can truly have a clean and fresh home with an animal inside. We guarantee it.
For more information about the pet-friendly carpet cleaner in Austin, call Peace Frog today for a no-obligation quote! Rest assured with our 200% Peace of Mind Promise, which guarantees that you will always be satisfied with our services or we will make sure to fix it!