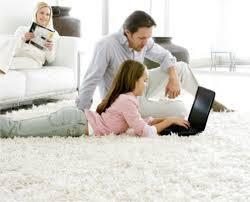 Here at Peace Frog Specialty Cleaning, we know just how important your family's health is to you. Did you know that your carpets have the potential to hold a lot of germs, dirt, and allergens that could potentially be making your family sick? Not only does steam carpet cleaning make your home look cozier, comfier, and cleaner, but it also helps keep your home healthier by removing bacteria and germs from your floors. When you need a professional Austin carpet cleaner, call Peace Frog Specialty Cleaning for expert and efficient services!
The carpets are the unsung heroes of your household. There is so much daily activity on them, and it's often difficult for homeowners to give them the professional-level treatment that they need. When your Peace Frog carpet cleaning technician cleans your carpets, you can trust that we will give your home that gorgeous glow once again with our 200% Peace of Mind Promise. We guarantee that you will be satisfied with our services. That's it. If you are ever dissatisfied we will fix it, and that's our guarantee.
We pride ourselves on not only offering efficient services, but also eco-friendly carpet cleaning services. Our carpet cleaning solution is detergent-free and contains no harsh petrochemicals that many of our competitors use. Our solution contains no chlorine or ammonia, which can be irritating to the eyes or skin. In fact, our cleaning solution is so safe that you could even eat it (although we don't recommend it!) So when you need a professional Austin carpet cleaner for your home, give Peace Frog Specialty Cleaning a call!