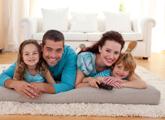 The area rugs in your home are put there to add spice and flare to any room in your home. Also, they are most likely placed in areas of your home that are used often like in the living room or dining room as well as in the bedroom or den.
Rugs that are placed in high traffic areas will more than likely get very dirty over a period of time, which is why it is a wise decision for you to call our reputable Austin, TX area rug cleaning company to clean the rugs in your home.
Our company is well-established and highly professional. We have an expert team of technicians and our equipment is modern and certified. In addition, our cleaning solutions are safe to use on all fabrics and will not damage your rugs. We will effectively clean your area rugs and make them look vibrant.
Area rugs trap dirt, lint and debris and also trap allergens that can affect the air quality in you home environment. Regular vacuuming will not be sufficient to deep clean your rugs. Our techniques will remove all dirt and grime and will get rid of toxins that you cannot be done with normal vacuuming.
In addition, our cleaning methods and techniques will safely remove stubborn stains and strong odors. We will pre-treat tough stains and use the correct combination of cleaning solutions to get rid of stains for good. Plus, our fresh deodorizers will remove any unpleasant odors from your rugs.
We are a professional Austin, TX area rug cleaning company that uses top-quality equipment and safe cleaning solutions. Your rugs will be fresh and clean and odor-free. In addition, your rugs will look brand new.
Contact our reliable and reputable Austin, TX area rug cleaning company today if you want your rugs to be safely and thoroughly cleaned.
Professional Austin, TX Area Rug Cleaning Is The Best Option