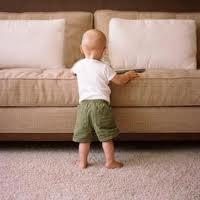 When you buy a new piece of furniture you always have the best intentions. You always think that this couch is the one that is going to stay clean and that you'll take the time to sweep out the crumbs underneath the cushions. Better yet, you won't even allow your family to eat on it because you want to keep it pristine. Fast-forward a few years, and your piece of furniture is now looking dingy. It's inevitable that you or your family will spill something on your couch or chair because you live part of your life on it. Whether it's movie night or game night, the snacks come out and the spills will happen. Fortunately, your furniture can be restored back to its original beauty with Peace Frog Specialty Cleaning to assist you. When you need a professional upholstery cleaner in Austin, be sure to call the experts at Peace Frog!
Here at Peace Frog we specialize in cleaning several types of upholstery, including:
• Leather• Micro suede• Wool• Several types of other common fabrics
When you schedule a Peace Frog upholstery cleaning, you can expect excellent services and efficient technicians. We will check the fabric for color fastness and dimensional stability of the fabric to ensure that we clean your upholstery properly so that it can stay beautiful for years to come. When your technician arrives for your upholstery cleaning be sure to ask about applying Dupont Teflon technology to prevent future stains! Call Peace Frog today for more information about the professional upholstery cleaner in Austin!