Tiling that gleams with bright, clean grout can be a centerpiece of any kitchen, bathroom, or outdoor area. But when the balance shifts and the grout has become so discolored that it detracts from the vibrance of your ceramic or porcelain, it can be difficult to look at, day after day.
Dirt and grime shorten the lifespan of grout. Grout fills the spaces between tiles, keeping dirt and moisture from creeping underneath to cause unseen damage. Keeping your grout clean can help to protect your home by maintaining that watertight seal of the grout, thereby preventing keeping the space underneath your tiles clean and dry.
While household cleaning of tile and grout can help to keep your home sparkling, getting a professional cleaning from time to time can create the difference between simply clean and simply stunning. The excellent humans at Peace Frog Specialty Cleaning have been making Austin's tile and grout cleaner for years.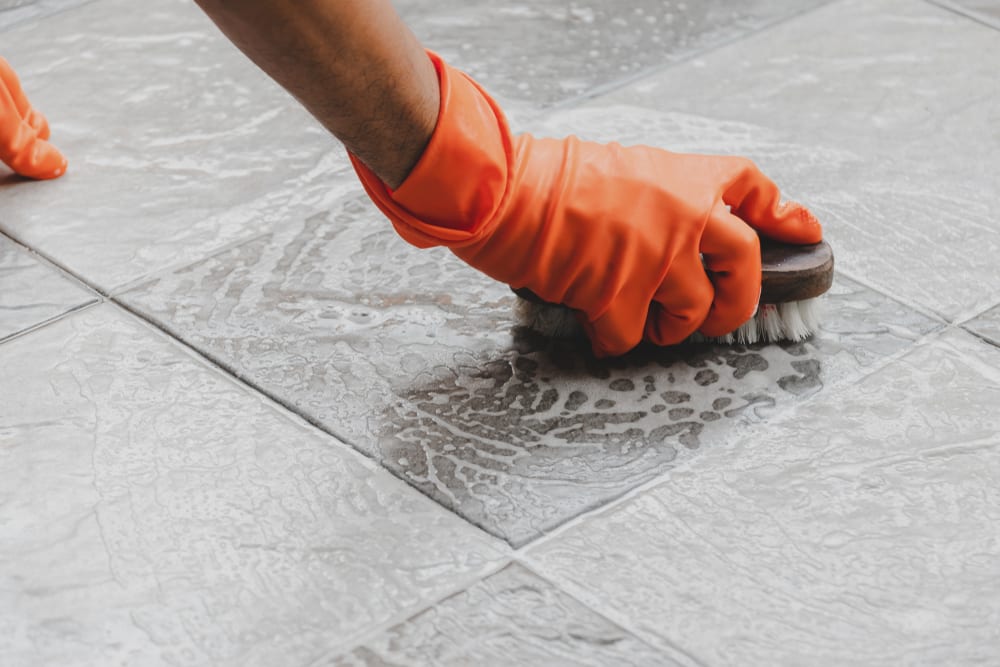 We Give All Grout Expert Treatment
There are two main types of grout: one is like a cement, and the other has an epoxy base. We tailor our approach to the type of grout. Depending on the type of grout you have, we will select the proper techniques to get your grout gleaming. All the products we use are eco-friendly, which means you don't have to worry about exposing your children and pets to any harmful substances.
Along with grout cleaning, we also offer a grout sealing service. When grout is properly sealed, it repels moisture and dirt. When grout does not have a watertight seal, moisture and dirt can work its way in between and underneath tiles, creating the perfect environment for bacteria and mold to grow. Grout sealing can help to keep your grout clean longer, so that crucial watertight seal remains intact longer.
Periodic professional tile and grout cleaning can extend the longevity of floors that receive heavy traffic. Our penetrating green cleaners eliminate grimy built-up dirt and bacteria, without filling the home with a harsh chemical smell. The cleaner your grout is, the better it can maintain its seal. This can prevent the need for costly grout restoration and tile regrouting.
Professional Tile and Grout Cleaning
When you are ready to see your tiles and grout sparkling, contact us. When you call Peace Frog Specialty Cleaning, the friendly humans on our end will help you set up an appointment at a time that is convenient to you. Our cleaning experts show up right on time in our signature white vehicle emblazoned with Austin P. Frog flashing the peace sign.
Unparalleled Customer Service
From the first time you call us, you get nothing but the best service from Peace Frog Specialty Cleaning. We can answer any questions you might have, within reason. (We might get into the weeds if you ask us about determinism versus free will, but when it comes to grout, we can give you definitive answers.) If you would like us to come out look at your space and give you a free estimate, our cleaning specialists are happy to oblige.
We treat every client in a way that we like to be treated: with honesty, friendliness, and with the best tile and grout cleaning around. Our cleaning specialists will communicate clearly with you about the services you request, and they will always respect your home.
When you are ready to see your tile and grout gleaming and to experience Peace Frog's notoriously excellent customer service, give us a call.