Peace Frog Specialty Cleaning
Best Tile & Grout Cleaning Services in Pflugerville
If you're ever wandered through the pfabulous streets of Pflugerville, chances are that you've encountered a big white van with a tree frog flashing a peace sign on it. This isn't some circus car; instead, it's the service van of one of Peace Frog Specialty Cleaning's versatile technicians, out on the job for one of our many service calls in the Pflugerville area. After all, Peace Frog is one of Travis County's most trusted names for carpet cleaning, and we also specialize in comprehensive and cost-effective tile cleaning in Pflugerville.
Pflugerville is a beautiful town, not just because of its excellent hiking and beautiful scenery, but also because homes in this area are often filled with striking porcelain and ceramic tile…which is endlessly alluring for cleanliness fanatics such as ourselves. Our work is more than just a job to us: we have a passion for serving our neighbors, and that dedication shines through in the glistening tile and watertight grout we leave behind wherever we go.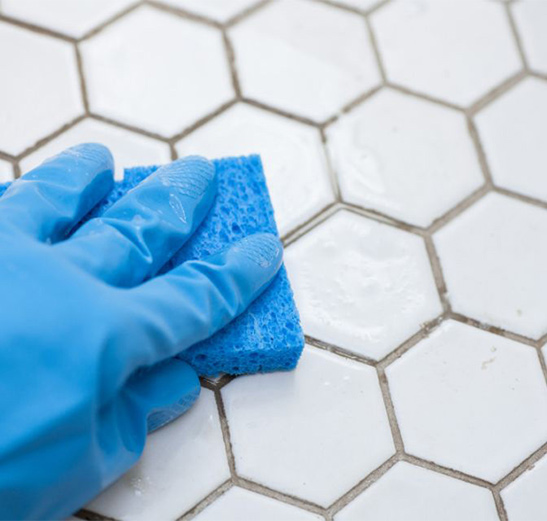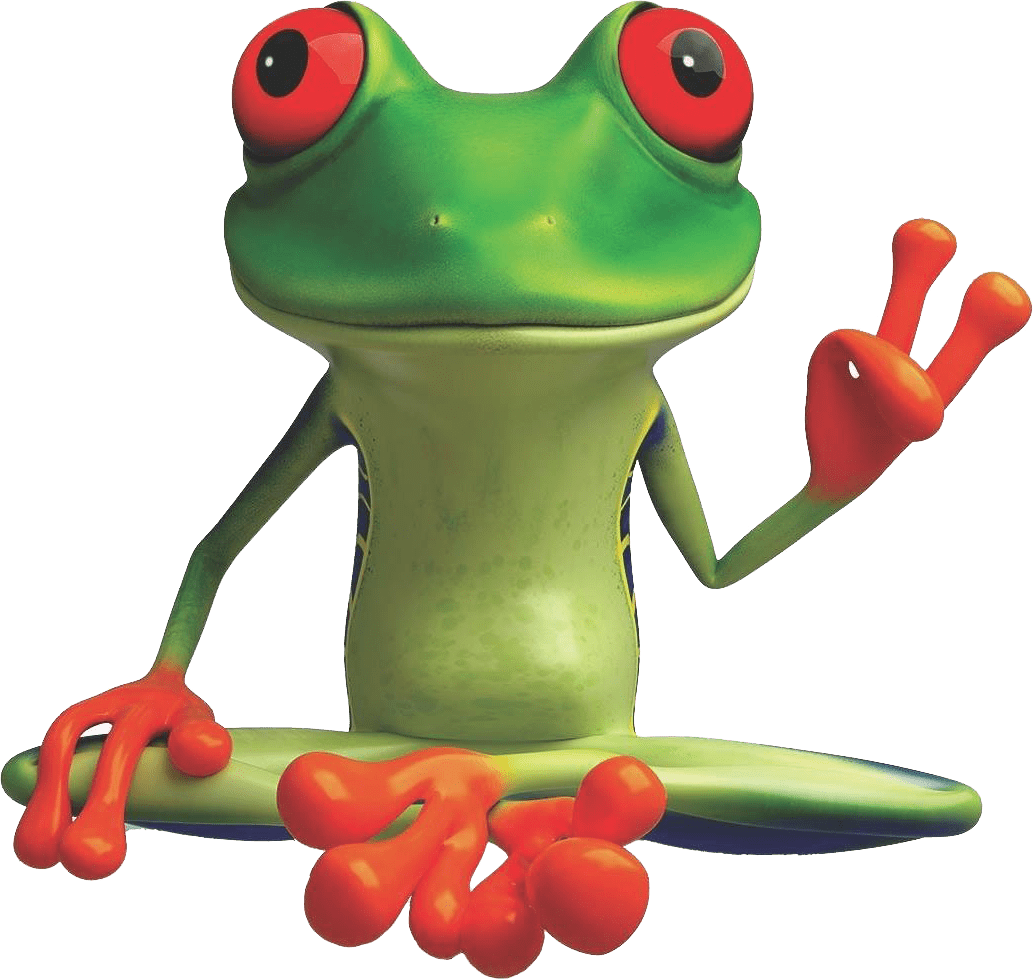 Professional Tile & Grout Cleaning Experts
We know that your flooring has to endure plenty of wear and tear from you, your family, and your furry friends, so we've specially tailored our services to reinvigorate even the most worn-out tile and grout. Count on us to give your flooring the care it deserves with the very finest grout and tile cleaning in Pflugerville, TX.
Not only do we strive to meticulously scrub and polish your tile until it's vibrantly shining once again, but we also deliver the area's best professional grout cleaning services. Your grout might not always be the first thing on your mind, but if you're not careful, it's easy for otherwise-pristine grout to get beaten down, messy, and damaged.
Peace Frog Offers Expert Tile Cleaning in Pflugerville
At Peace Frog, we offer a unique grout sealing process that empowers your grout to get clean and stay that way. Our cleaning and sealing services can protect your grout and extend the life of your floor, all while mitigating major expenses on tedious grout restoration or regrouting services later down the line. It's simple: if you have grout, we're ready to clean it.
We don't just care about grout or floors, however. We care about the people and animals that live and walk on them, which is exactly why we use responsible eco-friendly cleaning products. You won't find us relying on caustic chemicals that stink up your home, hurt your family, and damage the environment. Instead, we provide safe and effective green cleaning materials that allow you to enjoy total peace of mind on the job.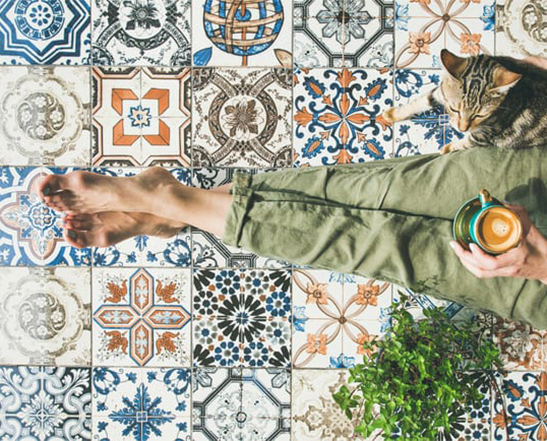 Why Choose Peace Frog?
We perform a comprehensive range of services at Peace Frog, and once you give us a call, you'll find that they're all designed to put your worries at ease. We make good on a Peace of Mind Promise by hiring only the most knowledgeable and dependable technicians and delivering results you can't beat – all at prices that won't break the bank. We're standing by to blow past your expectations for tile cleaning in Pflugerville – just give us a call, and our friendly technicians will be ready to help.
See for yourself what makes Peace Frog's team of experts the most trusted cleaning company in Central Texas. Contact us today to learn more and schedule an appointment!
What Our Clients Say!
Easy online scheduling, tons of options and services, great communication, and nice workers.

Peace Frog is a great business to work with! Very professional, friendly, and top quality work.

Ryan was unbelievably professional, the price was reasonable, and he did a great job. I will absolutely be calling these folks again. From start to finish, an incredible experience and product!

I had a great experience with Peace Frog! They charged me exactly what they quoted and there was zero up-selling, just factual information. Guy was very informative and knowledgeable. I had a large area rug and my stairs done. Guy just left so the carpets are still a bit damp but I can see the difference! After this looong covid time period, I'm so happy to have my rug and stairs clean for the holidays. I highly recommend Peace Frog and will be using them again.

On time service and responsive via text and email. Excellent work done on our couch!

Carlos was terrific! Very prompt, courteous, professional, and my carpets look great!

Very professional and great result. Would use in the future.

The technician was knowledgeable, professional and efficient.

Clarence R
22:36 19 Nov 21
Extremely happy with Peace Frog and the two men that came to my house and cleaned my carpets. They were very professional, polite, and did an amazing job. I will definitely be using them again.

This is the second time I've used Peace Frog for an extensive cleaning of all the carpeting in my house. I had such a great experience the first time that I didn't hesitate to call them again. Ryan arrived early, talked me through the whole process, no upsell's, did a spectacular job on every bit of carpeting, and even addressed a couple of spots more than once. Great service, great attitude, highly recommend! Oh, by the way, you can save some money by writing a check instead of using a credit card.

2nd time using this business- they're awesome! Always prompt, professional, and very considerate of your home. Chad came to our house today and did an awesome job cleaning a white couch and special antelope carpet. Highly recommend! They're so friendly- would recommend them to anyone I know.

Chad gave me a 30 minute heads up that he was on the way, did a great job with my couch and loveseat, and the furniture looks and smells great. Also very careful with my floors/door.

Elizabeth H.
20:22 16 Nov 21
They were on time, friendly, and did such a thorough job. I really appreciate how great our tile and carpet looked afterwards. I've used them twice before and wouldn't consider using anyone else!

Carlos was awesome and made great recommendations. This is the 2nd time we've used Peace Frog and once again we are pleased with the results!!

Have used Peace Frog for 4 years home and office they are excellent

Very professionally operated business. Technician Carlos was on time, courteous and efficient. He was very respectful and careful with our furniture. He left very clear instructions for next 8-12 hours during drying. I will definitely use and recommend this service.

Great work, as always. Jacob, our technician, was very nice, good with our dogs, and did a great job getting our carpets clean!

Allison W.
17:49 11 Nov 21
They gave me a window of arrival that was from 3:30pm to 6pm. Then I received a text asking if it was okay to arrive 30 minutes earlier, and once I said it was okay, Danny, the person cleaning my rug and couches, arrived at 3pm. He was quick and efficient. He was also very nice and respectful. Now my couches and rug look new again. This is my second time using this company and they are phenomenal at communicating, timeliness, and quality! Highly recommend.

Carolyn S.
01:16 11 Nov 21
Chad did an awesome job! Will definitely use this company again! Carpets and sofa look brand new!

Super nice & professional. Great job with the carpets and tile! Plan to use them every time.

Maureen P.
20:55 08 Nov 21