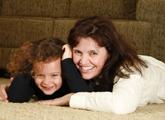 Truck Mounted Carpet Cleaning in Georgetown, TX
When it comes to the best cleaning method for all types of carpet, rugs, tile, or upholstery, a truck mounted carpet cleaning system is the answer in Georgetown, TX. A professional crew of trained technicians will use biodegradable environmentally-friendly safe chemicals combined with heat and suction to remove stubborn stains, ground-in dirt, dust mites, pet stains and odors, smoke, bacteria, pollen, and other soil conditions.
Carpet manufacturers recommend a regular cleaning by hot water extraction, which is the method that is employed by the truck mounted carpet cleaning units in Georgetown, TX. Our units are mounted to the floor of a trailer or van. Our professionals parks near the premises, connects the vacuum and solution line hoses into the machine, takes the hoses into the home or commercial building. We then connect a carpet cleaning wand, power heads, or other tools to the end of the hoses to commence the cleaning, delivering the right amount of solution, and then extracts the solution.
The truck mounted carpet cleaning method here in Georgetown, TX can clean carpets faster than portable machines, it doesn't have to be emptied often, there is more power and heat, an almost endless clean water supply means not having to constantly fill and dump out like portable cleaners, there is no need to carry solutions and water through the building, the dirty water is vacuumed into the waste tank mounted on the truck, and there is no need for an exterior water or power source to accomplish the cleaning operation.
If you desire, our technicians can also apply treatments including deodorizers or a protective coating that prevents staining, resists soil, and helps to extend the life of your carpet. Contact us today to set up an appointment.