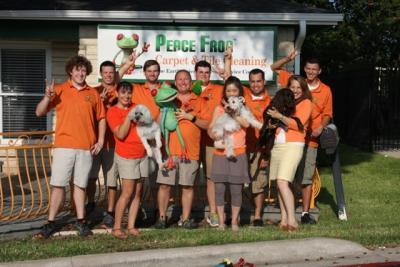 Upholstery Cleaning to Please Even the Perfectionist in Austin, TX
Here at Peace Frog Carpet Cleaning we take upholstery cleaning in Austin, TX seriously, because we know that a great cleaning, allows you to see and smell the difference in your home. We get on top and underneath the upholstery, to get rid of bacteria and odors that are hiding within. And when the upholstery is professionally cleaned, then the whole house looks and smells better. Your sofa, chairs and curtains look so much better and your guests are sure to notice.
We make sure to go around your home, so that we can get a feel of what you want cleaned and how you want it cleaned. And we offer services for upholstery cleaning in Austin, TX according to how much cleaning is needed. There are some stains that have been in your upholstery for a while and will need a deeper cleaning, than others.
We offer cleaning fluids that can be soaked onto a spot to remove it completely. So come and see what we can do with your upholstery cleaning Austin, TX needs. We look forward in getting to know you as a repeat customer and we want you to be excited about our cleaning services as you prepare to entertain your guests.
Your upholstery cleaning, will be the talk of the town, because it will show that even those deep down bacteria and odors can be professionally cleaned. That spot on the sofa where the kids dropped ice cream, or that lip stick on the chair that you tried to, but just could not get out. Or the fact that people have been rubbing their hands on your curtains and now, they just are filled with grease.
We are here for all of your upholstery needs. We perform the best, because we simply are the best. So call us today and let us get started on cleaning your upholstery needs. You will glad you did!
Upholstery Cleaning to Please Even the Perfectionist in Austin, TX