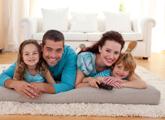 Area rugs can become a huge problem when they start to collect dirt and look dingy. Some people may attempt to clean them, but things don't work out too well, unless you area professional rug cleaner or carpet cleaner. This is a tough job for professionals like the Carpet Cleaning Frog. We specialize in Austin, TX area rug cleaning services for the home or business and we offer an excellent guarantee with all sales and service. You may contact us now to get a free quote and you will be really surprised at how much time and money you will be saving.
We have highly trained carpet cleaning professionals that are looking forward to serving commercial or residential customers. You should not have to waste your time trying to clean these huge area rugs alone. You should not have to waste your money on purchasing cleaning solutions that don't get the job done. The Carpet Cleaning Frog uses the highest quality carpet cleaning solutions that don't harm the environment because they know how important it is to be safe. Get your free quote now and your carpets and area rugs cleaned tomorrow.
Dirty area rugs can cause problems in the home or business like allergies, sinus and cold. Don't let this happen to you when you can get your area rugs cleaned and disinfected. we know just how important having good health is and that is why you will get extremely clean and disinfected area rugs for a great price. Contact us today at (512) 259-6606 for all of your Austin, TX area rug cleaning needs.