The more you stare at your carpet, the more you might realize it lacks the brilliance it once had. With time and typical use, any carpet can get dirty. No matter how often you drag the vacuum out, dust, dirt, and other particles can still find their way deep into the fibers of your shag.
When it comes to finding the best carpet cleaner, there are four options. Each has its own benefits and disadvantages.
DIY Carpet Cleaning
The first option is to create your own cleaning concoction. Since before the word "google" became a verb, people have been mixing together household ingredients such as dishwashing liquid, vinegar, and water. You can apply this mixture by dabbing it on, waiting several minutes, then wiping the area clean. If you need to clean a larger area, this is not a realistic option.
Use a Product You Buy at a Store
Another option is to use a product you purchase from a store. This solution can be effective; however, it shares many of the same disadvantages of a homemade carpet cleaner.
An additional drawback to carpet cleaning products found on the shelf is that they are almost always loaded with chemicals that can harm you, your kids, and your pets – not to mention the planet.
Using these products can be messy, and it can become expensive and time-consuming if you find yourself repeatedly spot treating or trying to treat larger areas.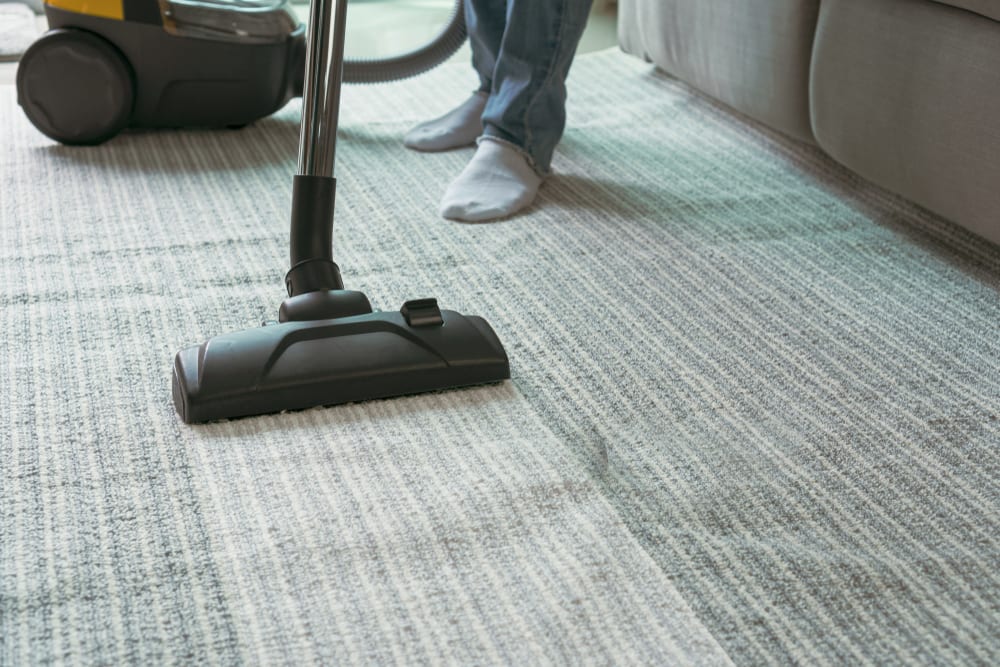 Rent a Machine
The third option is to rent a carpet cleaning machine. These machines can do a good job of getting your carpet cleaner. However, they are not without hassle.
First of all, you have to go pick up the machine and transport it to your dirty carpet. Then you have to decipher the machine's instructions, fill it with water and the proper chemical-powered cleaning detergent, and run the machine.
Operating carpet cleaning machines can be a bit of an art. You might not get the clean lines that the professionals leave, but when used skillfully these machines can be effective in removing dirt and stains. The whole process is time-consuming and you still will not get the same results as when you opt for professional carpet cleaning services.
Hire Professionals
Not all carpet cleaning professionals are created equal. Some companies are better than others – not just in the work they do, but also in how they go about doing it. At Peace Frog, we want to be the best carpet cleaner in the area.
When you hire a professional carpet cleaning company, such as Peace Frog Specialty Cleaning, you can be sure that your carpet cleaning job will be completed with impeccable detail. You won't be left with uneven splotches in your carpet, and your furniture legs will be left untouched by water and unscathed our professional-grade equipment.
We use an environmentally-friendly detergent-free cleaning compound for carpet and upholstery cleaning. Our method protects the air quality in your home and extends the life of your carpet, all while delivering professional results. We'll leave you and your loved ones with an immaculate carpet and a healthy home.
Instead of staring at a dirty carpet, call us up. Ask about our professional carpet cleaning and upholstery cleaning. Let us show you how Peace Frog Specialty Cleaning is the best carpet cleaner around.